Last Chance to Enter the 2019 Glass Magazine Awards

The Glass Magazine Awards are back, with brand new categories to showcase the glass industry's most innovative products and projects from the last year. Submit your nomination by May 24.

Brand new categories
Glass Magazine awards are split into two major categories, products and projects. This year's list of project sub-categories recognizes a changing glass industry landscape, with new awards for Best Green Project and Best Jumbo Glass Project.

New product award categories aim to recognize the entire supply chain, from Best Innovation for Architects, to Best Innovation for Installers. Learn more about the categories and competition rules here.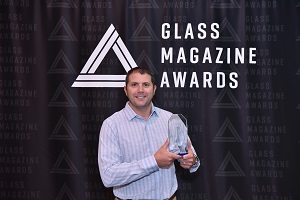 Dave Vermeulen accepts a Glass Magazine Award for
Technical Glass Products at the 2018 GlassBuild
America awards ceremony.
A continuing celebration
Every year, Glass Magazine Award winners have their work showcased in the September issue of the magazine. Last year, for the first time, award winners were also recognized in a ceremony on the floor of GlassBuild America. The editorial team plans to continue this new tradition by celebrating the best innovators in the industry, at the longest-running tradeshow in the industry, during this year's GlassBuild America.
If you have questions, comments, or trouble submitting the form, please contact Norah Dick, assistant editor, at ndick@glass.org. Thank you for your participation!