Three Takeaways from the Mid-Atlantic Glass Expo

The Mid-Atlantic Glass Expo, hosted by the Mid-Atlantic Glass Association, hosted a 163 exhibitors this year. Held in its usual location at Martin's Crosswinds, in Greenbelt, Maryland, the regional show welcomed 943 attendees. Here are a few highlights from the trade show:
1) Bohle's Mobile Showroom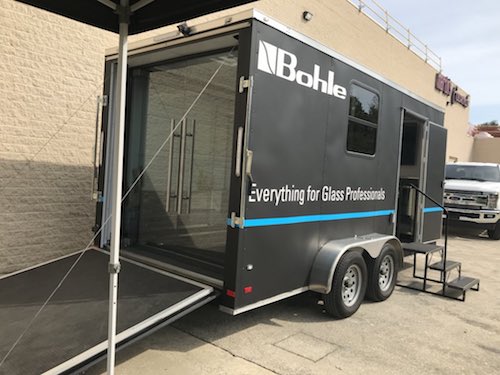 This year, Bohle America took its products on the road, showcasing its new mobile showroom at the Mid-Atlantic Glass Expo. The truck is equipped to show Bohle's general hardware products, and includes a video display showcasing the company.
"It adds value to the customers," says Connor Leahy, national sales director, Bohle. "They can touch and feel the products for themselves."
"We've had a great response," says C. Scott Welch, director of hardware products. The mobile showroom began visiting customers two weeks ago, he says.
2) Education and training
This year, the MGA Expo also included MyGlassClass.com educational presentations, hosted by Jenni Chase, content director of the National Glass Association.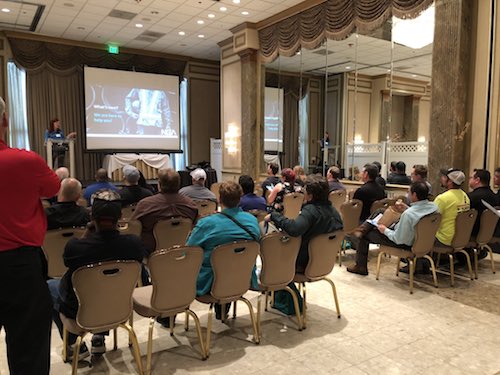 "The Mid-Atlantic Glass Association Annual Glass Expo is always a terrific event for networking and seeing advanced products and services," says Chase. "New this year was the addition of a learning theatre, where attendees learned how to use MyGlassClass.com to train employees." The online training portal now offers over 60 courses for training new personnel in the glass industry.
"I like the new NGA education offering. It's an innovative part of the show," says Lauren Conners Anderson, sales representative for Conners Sales Group, who has been attending the expo for about 13 years.
3) Networking
As usual, the show featured an atmosphere congenial to networking. For several exhibitors, the show is an opportunity to see longstanding customers.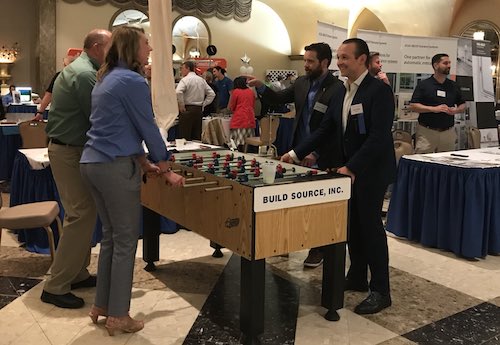 "You see the customer base you normally can't see at a national glass show," says Jacob Bowser, inside sales manager, Standard Bent Glass."This is a great networking show," says Mike Nicklas, director, engineered glass systems, J.E. Berkowitz. "It's a close-knit market."
The relaxed evening also included brownies, pretzels and a few games of foosball.
Norah Dick is the assistant editor of Glass Magazine. Contact her at ndick@glass.org.