What to Do When IGUs Fail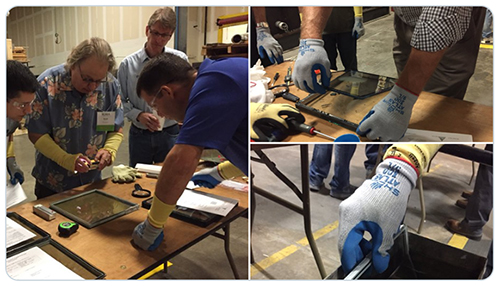 Images from the previous IG forensic investigation session at the 2018 IGMA IG Fabricator Workshop in Plano, Texas. Participate in the hands-on session at GlassBuild America 2019 in Atlanta.

What do you do when an insulating glass unit fails on a building? What about when IGUs fail at the factory? In the test lab? Does your team know the steps to take to diagnose the source of failure, identify the cause and make necessary changes in production to reduce failures in future?
Insulating glass units are complex systems. IG failures happen and are a goldmine of information. The key to a fabricator's long-term success is determining the cause of those failures to improve daily practices, increase production quality and reduce liability.
WHAT: Hands-On Workshop: Forensic Investigation of Insulating Glass Units
Presented by IGMA
WHERE: GlassBuild America
Booth: 3909
WHEN: Tuesday, Sept. 17, and Wednesday, Sept., 18 (continuous presentations both days)
REGISTER NOW (Space is limited)
This year at GlassBuild America, attendees can learn how to determine the causes of IG failures during the Hands-On Workshop: Forensic Investigation of Insulating Glass Units, from the Insulating Glass Manufacturers Alliance. Workshop attendees will have the opportunity to inspect the IGUs and are provided with the tools to determine the failure mode with guidance from industry experts. Participants will learn techniques to provide a detailed IG analysis to include performing a visual inspection, dissecting the unit, writing the failure report and analyzing the failure.
The session is traditionally part of IGMA's two-day IG Fabricator Workshop, which I had the pleasure of attending last year in Plano, Texas. During the forensic analysis section of the workshop, we worked in small groups to identify the type of unit and its various component parts. We performed detailed visual inspections, looking for everything from gaps in the sealant application to appearance of fog. We submerged the units in water to watch for air bubbles that might help diagnose the site of a failure. And eventually, we worked as a team to disassemble the entire unit.
This type of hands-on, collaborative learning is critical to effective training of new employees and to furthering the industry knowledge of veteran workers. It offers a rare opportunity to learn from the foremost experts in the field of insulating glass—those with decades of experience identifying failures or potential fabrication issues. It provides every employee who attends—whether they work on the factory floor, in the office or the field—with the understanding and tools to understand the potential causes IG failures. This in turn can improve quality control from a single factory all the way to the company and industry.
I can't recommend the session highly enough.
Because of the hands-on nature of the GlassBuild America workshop, space is limited. Get registered today.
Katy Devlin is editor in chief of Glass Magazine. Contact her at kdevlin@glass.org. Follow Glass Magazine on Twitter.