Who's Ready for AIA '19?

For many glass manufacturers, the AIA National Convention is an event that is permanently fixed on their calendars. Whether it's to exhibit, walk the show, network, join tours, participate in seminars, explore a new city or all of the above, this once-a-year event is truly something that the industry looks forward to.

AIA, past and present
This year's convention in Las Vegas will be my 13th AIA Convention. I still remember my first AIA Convention in Los Angeles back in 2006. I really did not know what to expect, as I had just started with Safti First a few months previous. At least it was in a familiar city, since I spent a good amount of time in LA while I was attending Loyola Marymount University. Needless to say, I was overwhelmed by the size and scope of the show. I was very "green" to the glass industry, and construction in general.
As Safti First continued to exhibit at the show year after year, it became less overwhelming. Certainly, years of experience in the job made it easier. However, it was also the connections I've made with other exhibitors, manufacturers and architects – all in different stages in their career – that have helped me the most. Which is why I sometimes feel like the AIA Convention is a reunion of sorts where I can catch up with colleagues from other industries. It's our opportunity to discuss things happening in our industry, make speculations on construction forecasts, talk about recent product launches, and compare notes on how to better educate and reach architects.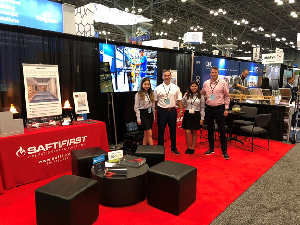 Safti First's trade show team at last year's AIA Expo in
New York (From left: Jennifer Hom, Mike Augustine,
Diana San Diego and Tim Nass).
How to have a successful AIA
For us, we've found that having a successful trade show starts with planning. As the old saying goes, "failing to plan is planning to fail." Tradeshows can be a significant investment in time and money. It's your chance to be in front of your audience amidst 650-plus exhibitors in a 200,000-square-foot space (at least that is the size AIA projects for Las Vegas). When planning for the show, we go through our checklist of what needs to be ordered, sent, etc. for the booth. We also prepare our pre-show email to let everyone know where we are and what we are doing. We hone our message and set appointments with architects, industry publications and with others that we want to conduct a meeting with.
In the last couple of years, we've taken it a step further by not just exhibiting, but by participating as an educational provider. After all, architects attending the show are there to complete their credits and learn about new innovations on the products that they specify.
Following-up on the leads and contacts that you've made is also very important. At Safti First, we have a post-tradeshow protocol that we follow every time we exhibit. Doing this consistently has increased our success rate for getting specified – whether through the firm's master spec or specific projects that they are working on.
Of course, there are many other strategies that you can use. Whether you are a seasoned trade show veteran or just starting out, AIA has a ton of resources available designed to help ensure a successful show. See some of their resources here.
Hope you find this information helpful, and I look forward to meeting you in Las Vegas! Safti First will be at booth 7413.

Diana San Diego is vice president of marketing for Safti First. Contact her at dianas@safti.com.
The opinions expressed here are those of the individual author and do not necessarily reflect those of the National Glass Association, Glass Magazine editors, or other glassblog contributors.