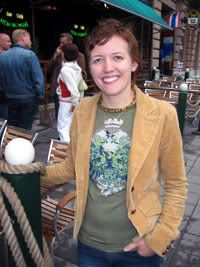 —By
Katy Devlin
, e-Newsletter editor, e-glass weekly

For those of you who have never been able to attend GPD, Tampere, Finland, is in fact not the Oz-like glazed city pictured in the conference literature.
While the incredible faux city dreamed up by graphic designers did not greet me upon arrival, Tampere does offer some pretty impressive glass buildings. Here are some examples I've found in my wanderings—and I'm sure there are more. (Oh, and for those of you who have wondered about the unicyclist on the graphic—I have yet to see any on the streets—though one was pedaling around the conference hall on opening day.)
-The GPD organizers couldn't have gotten closer to their designer's image of a glass Oz as they did with the choice of Tampere Hall for the conference venue. With several glass-walled and roofed atriums, countless skylights, double façades, a channel glass wall and numerous examples of artfully used interior glazing, the concert hall is by far the glass Mecca of Tampere.
- Right down the street is the University of Tampere, where the GPD workshops were held on June 14. Pictured below are two of several remarkable uses of glass—the five story entry and stair well, with glass railings, and the three-story glass bridge that swoops out at least another 30 feet beyond the frame to create an interesting roof skylight.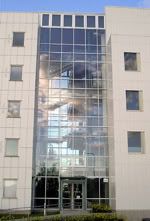 - To the west—conveniently on my walk to the hotel—are two malls, both with glass roofs. The Tullintori Center features an arched glass roof that extends the length of the mall, and the KoskiKeskus complex features three sloped glazed rooftops over its main entrances.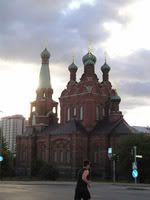 - While this last image of the Orthodox Church doesn't include a lot of glass, I thought you all might want a look at one of Tampere's most famous sites. (Note, also that this was taken at about 8:30, with the sun still high above the horizon).