—By Katy Devlin, e-Newsletter editor, e-glass weekly
If you didn't make it to San Antonio for this week's AIA show, you missed seminars on energy efficiency from some of the most innovative design minds of the industry. You missed the debut of products from hundreds of exhibitors.
And … you missed a dreadfully confusing tradeshow floor that left attendees struggling with maps and company listings, and gridlock reminiscent of the Washington, D.C. Beltway at several of the high-traffic booths planners placed in major entryways. Unofficial attendance topped 21,000; official numbers come out next week.
So, for my final blog entry from the AIA show, I thought I'd show you some notable booths I discovered, you know, in case you couldn't attend the show, or you just couldn't find them—or get to them—once you were at the show.
Oldcastle Glass showed a beefed-up version of the booth they brought to GlassBuild America last year. The two-story structure (complete with a glass staircase) and the illuminated bent glass spire certainly drew quite a bit of attention.
Arch Aluminum & Glass lucked out with a spot right at one of the main entries. They were showing off some DuPont laminates. This picture doesn't quite do justice to the clear quality of the laminated glass overhead in their booth.
Pilkington also brought a large booth that rose up about two stories, with a point-supported system on one side and their channel glass on the other. This hardware, pictured, doesn't require a cap on the outside, because part of the base is actually laminated into the glass.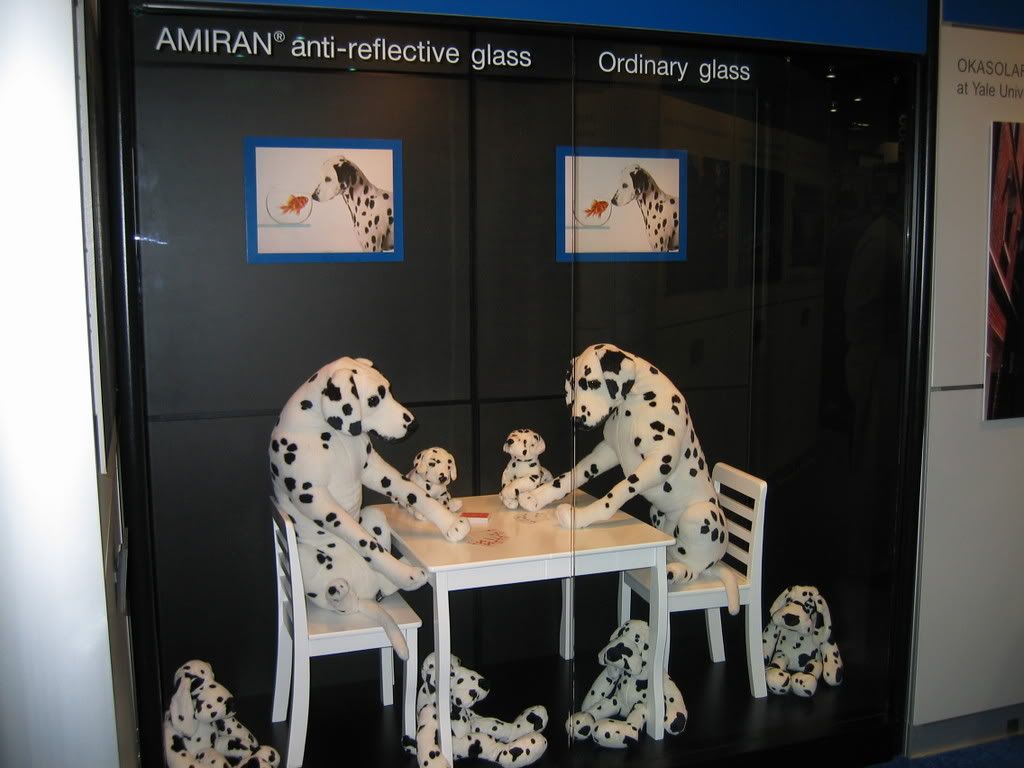 Schott's booth also caught some notice with a Dalmatian display for its anti-reflective glass. No animals were harmed in the making of this display.
But, having never been to expos outside of those specifically for the glass industry, or into a men's restroom, the booth that grabbed my attention the most on my first walk through was one lined with water-conserving urinals. These architects are really looking to green every part of a building, from the wall systems to the water closet.
Check out the next two issues of
e-glass weekly
to read news from the show, and the July issue of Glass Magazine for our new product coverage.