Şişecam Group Signs Cooperation Agreement for Turkish Defense Industry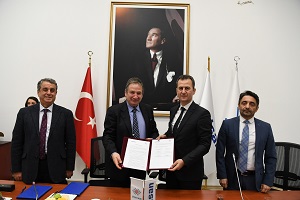 Representatives from Şişecam Group and Aselsan sign
a cooperation protocol.
Şişecam Group and Aselsan, Turkey's largest defense electronics company, will partner to develop domestic and national solutions for use in Aselsan's defense industry projects for the government of Turkey.
Within the framework of the cooperation protocol signed by both companies, Şişecam Group and Aselsan will make joint efforts to produce domestic and national solutions by combining the companies' capabilities, skills and experience.
The partnership will continue for at least two years, and will be implemented in two phases: preliminary studies and prototype production. The companies' aim is to develop a wide range of glass and ceramic materials for use in various equipment, to be developed by Aselsan, led by the periscope glasses of national tank project. They must be resistant to thermal shock, high strength, and, in some cases, have enhanced optical performance.
"I find it very significant that we cooperate with Aselsan, [which] developed its operations … in 1975 with the aim of meeting Turkish Armed Forces' communication needs from national resources," says professor Ahmet Kırman, vice chairman and CEO of Şişecam Group. "I believe that the knowledge and experience of these two deep rooted organizations will enable us to achieve important projects."