AAMA Merger, Plant Safety and Product Transparency Top Talks at IGMA Winter Conference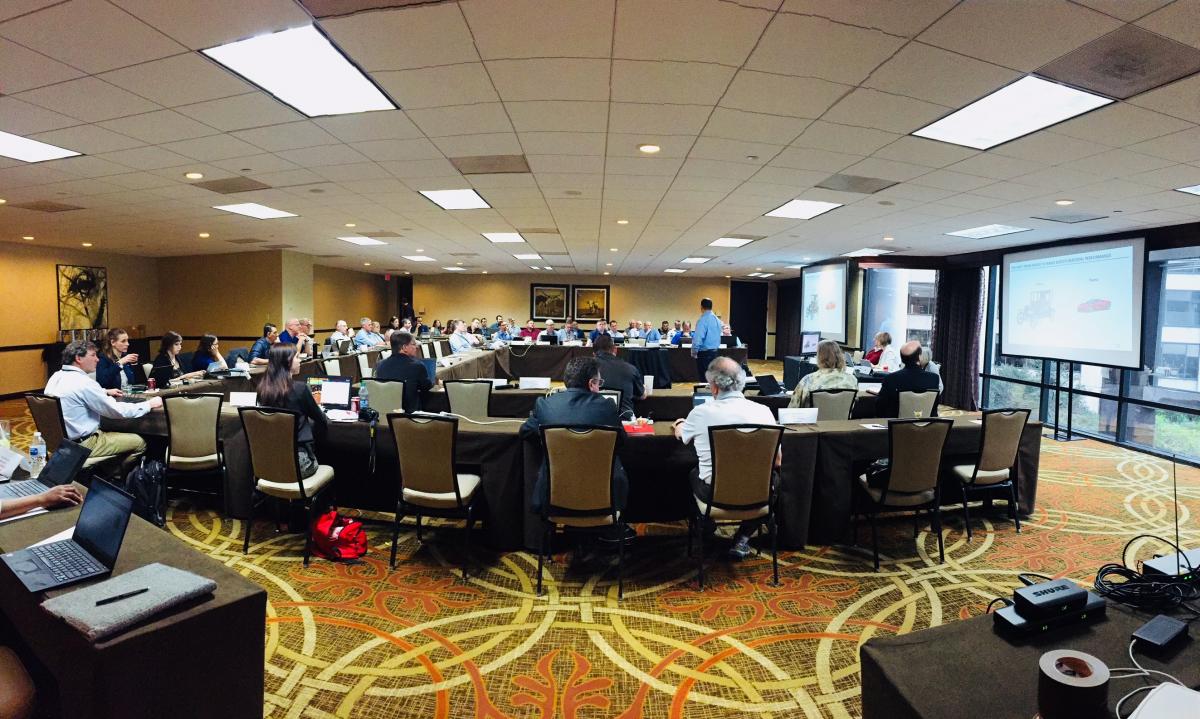 Members of the Insulating Glass Manufacturers Alliance gathered last week in Austin, Texas, for the 2019 Winter Conference. Leading discussion topics were the proposed merger between the IGMA and the American Architectural Manufacturers Association, demand for product transparency declarations, a new fund for bird-deterrent glass testing, and the critical topic of glass plant safety. For additional coverage from the event, check out live tweets from Glass Magazine's Twitter feed.
IGMA and AAMA continue progress toward combination
Officials from the IGMA and AAMA continue work toward combining the two organizations. The boards of directors for the two organizations officially announced in June 2018 that they had engaged in formal discussions with the hope of creating a unified organization to better serve the North American fenestration industry. Since the announcement, volunteer leaders from each organization have worked through topics such as organization structure, voting requirements, the number and location of conferences and more.
IGMA Executive Director Margaret Webb emphasized during the conference that "nothing is decided. This is a member vote." In order for the combination to be finalized, members of both organizations will need to vote to approve. The vote is scheduled for July. "It is important for you to give feedback; it is important for you to vote," she says.
Prior to the vote, the organizations will host their first combined conference, June 17-20 in Victoria, British Columbia. The co-located event will bring together IGMA's 2019 Summer Conference and the AAMA National Summer Conference.
Windows PCR set to expire
In September 2015, after years of work, a joint industry association task group published the Window PCR—the product category rules that can be used to determine the life cycle analysis of windows. The PCR, developed by the Glass Association of North America (now part of the National Glass Association), AAMA, the IGMA and the Window and Door Manufacturers Association, covers single windows, skylights, curtain wall and storefront, for residential, commercial and institutional buildings.
The Windows PCR, however, is set to expire. During the conference, members discussed next steps, including whether the association should invest in the development of a new PCR for windows. "The associations need to decide whether or not the move forward," says Webb.
The group also discussed the growing call for product transparency declarations in general. California, for example, passed AB 262, known as the Buy Clean California Act. AB 262 will ask bidders on public works projects in California to submit an EPD, or environmental product declaration, for specified flat glass products beginning Jan. 1, 2019. (Read more about AB 262's potential industry impact.)
Several industry officials at the conference speculated that the requirements for transparency will expand beyond California and beyond just flat glass products. "This is going to have a strong impact on the way you do business. And it's not just California. Other states are considering as well," Webb says.
IGMA launches Bird Deterrent Glass Fund
IGMA established a fund to raise money for the construction of a bird-safe product testing tunnel for the American Bird Conservancy. The IGMA is seeking about $250,000 for the bird glass fund, and 100 percent of the donations will go to the ABC. "We will keep the fund open for a couple of months," says Webb.
The ABC certifies bird-friendly glass based on performance of the product in its glass testing tunnels. According to the ABC, "in these tunnels, we test glass under carefully controlled conditions, observing and rating how birds react to various materials. The results of these tests can then be used to develop and test new products and learn more about why glass is a problem for birds."
There is a current backlog of products waiting to be tested, due to the limited number of tunnels and the limited timeframe available for testing (the tunnels are used during migratory seasons). This, combined with an influx of glass products for the bird-safe market, has created challenges for glass companies seeking certification. "There are a number [of companies] in our industry supplying bird-friendly glass. This is an opportunity to get certified," says Webb.
The new tunnel will be a part of ABC's glass rating program and will belong to ABC. At least 25 percent of the new test capacity will be devoted to research related to rating samples and deterring collisions.
Don't get caught in/between
One of the most common causes of injury in the factory environment is workers getting caught in or caught between, according to glass industry safety leader Mike Burk, the North American representative for Sparklike Oy and member of IGMA's Glass Safety Awareness Council. Workers can get caught in objects like machinery or equipment, or caught between pallets, glass sheets, and other objects on the factory floor.
In the glass plant, one key caught in/between risk is glass stored on racks, Burk says. Workers will attempt to handle more than one sheet of glass at a time, or they might attempt to tilt several panes of glass forward on a rack, he says. During the conference, Burk shared a video of one such incident of glass plant workers becoming pinned under an estimated 8,000 pounds of glass that they were tilting from a storage rack. (View the video. Warning, graphic content.)
"Every person matters and every incident is preventable," Burk says. "We need to be promoting a safety culture."
Burk delivers a safety presentation during each IGMA conference, providing updates on recent incidents and offering key tips to help companies improve safety at their own facilities. In addition to discussing caught in/between incidents, he also talked about the dangers of do-it-yourself fixes on the factory floor.
During the conference, members also continued work on a range of technical and certification activities, and discussed the challenges of fabricating and handling oversized glass products.