AGMT Begins Beta Testing New Glazier Personnel Certification Program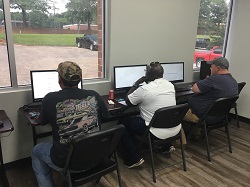 Glaziers complete the AGMT certification test.
The Architectural Glass and Metal Technician Certification Program began beta-testing its knowledge-based portion of the certification process (KBT) by testing the first 55 candidates with a written exam. The program is currently in phase 3 of the process, and beta-testing is the final step to ensure that the test is a well-written assessment, AGMT officials report.
"We are running the beta tests in multiple regions of North America to determine if there are any variations in comprehension of the exam based on geography," says Jeff Dalaba, program manager.
This written exam is one component of the program being developed by third-party certification body Administrative Management Systems with support and guidance from industry steering committees.
The goal of beta-testing is to make sure that test candidates can understand and accurately answer questions that will be used in the final version of the written exam, the team explains. It helps eliminate questions that do not trend well or appear to "trick" the candidate to answer incorrectly.
By examining candidates based on their fundamental glazing knowledge and competency the program mission is to identify glaziers that have the ability "to perform work in a manner that will minimize defects and failures," as stated in the program's mission statement.
Support and input from industry steering committees has allowed the process to stay ahead of schedule on development and beta-testing. In combination with their experience and judgment, the committee members took part in an Item Writing Workshop in February of this year.
There are 30 glass and glazing related knowledge, skill, and ability areas from which the written exam will draw. This body of knowledge can be found on agmtprogram.com/program-scope/.