Atis Group Adds Commercial Production Capacity in St-Apollinaire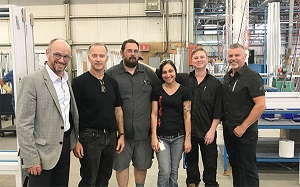 Pictured, from left: Benoit Alain, president and CEO of
Atis Group; Raymond Comeau, president of the Laflamme
workers union accompanied by union executives Yves
Gosselin, Emmanuelle Gagné and Sacha Fournier, and
by Éric Gilbert, director commercial sales, Atis Group.
Atis Group inaugurated its new commercial aluminum window production line this week during a launch event in St-Apollinaire, Quebec, Canada.

"Our ultimate goal is to take the necessary measures to be able to continue to support our clients' architectural projects," says Benoit Alain, president and CEO of Atis Group. "This new production line will allow us to meet the increasing demands of our professional customers and turn their visions into reality. I would like to thank all our employees for their efforts and commitment which made this project such a success."
This new production line will enable Atis to double its manufacturing capacity for commercial aluminum windows, say officials, in order to meet the growing demand of its commercial customers while continuing to support professional customers in their residential and commercial building development projects.
"I am very proud of this accomplishment and the implementation of our new commercial window production line in a record time of less than two months, thanks to the ongoing collaboration of our operations teams at both the St-Apollinaire and St-Joseph-de-Beauce sites," says Jean-Sébastien Guertin, vice president of operations at Atis Group. "This project was a challenge for our employees. They demonstrated their ability to adapt to market needs and satisfy our customers, who are always our top priority."