Dedicated Industry Leader and Volunteer Kim Flanary Passes Away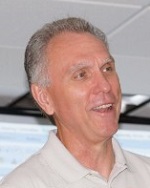 Kim Flanary, industry member and dedicated American Architectural Manufacturers Association volunteer, passed away Nov. 10. Flanary started working at Milgard Windows in 1993 and continued until his partial retirement this past year.
A long-time AAMA member, Flanary attended his first AAMA event in 2004 and was recognized with the Outstanding Member award in 2014. This award is given to an individual who has distinguished themselves in their work and dedication to the advancement of AAMA and the industry as a whole. He also served as chairman of the board (2013-2014) in addition to the numerous leadership and committee and task group positions he held.

"For many of you, like me, Kim was a treasured colleague and friend for many, many years," says Janice Yglesias, AAMA executive vice president. "He will be missed in a way that cannot be adequately expressed in words. AAMA will never be the same without him, but I, for one, am eternally grateful for having had the opportunity to know him and learn from him."
Flanary is survived by his wife, Janet, and their two daughters.

Extended family and friends are invited to a celebration of Flanary's life on Sunday, Dec. 9, 2018 at Cedarbrook Lodge, 18525 36th Avenue S, Seattle, Washington, 1:00 p.m.-4:00 p.m.

Click here for more details.