Dlubak Corp. Founder Frank Dlubak Passes Away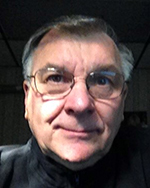 Longtime glass industry figure Frank Dlubak, former owner of Dlubak Corp., died Saturday, Nov. 25. He was 75. Dlubak began his tenure in the glass industry at age 12, working with his father Charles to design stained glass windows for churches. By 21 he was leading large projects, such as crafting and installing 24 windows in St. Nicholas Antiochian Orthodox Church in San Francisco.
Dlubak started Dlubak Corp. in the 1970s, where he turned his creative talents to developing techniques for bending and strengthening architectural glass. At Dlubak, he set the standard for the architectural curved glass industry. He customized curved windows for buildings, but he also invented glass-bending machinery to make unique designs and angles possible. Dlubak also created a special laminate for hurricane and bomb-resistant windows that protected against shrapnel. His windows were installed in airports, military vehicles and American embassies around the world.
Throughout his career, Dlubak received numerous awards and recognitions, including Glass Magazine's Entrepreneur of the Year, the Pittsburgh Humanitarian Award, the Pennsylvania Small Business Association Innovation Award, and, in 1998, he was inducted into the Glass and Metal Hall of Fame for his contributions to the industry.