Eastman Displays Jumbo Laminated Pane at glasstec 2018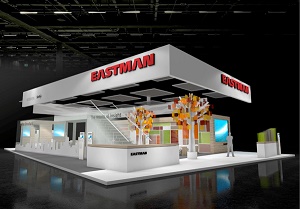 Eastman Chemical Co. will exhibit in Hall 11-A42 at the
Messe Düsseldorf at glasstec 2018.
Eastman Chemical Co., will exhibit at glasstec 2018, Oct. 23-26 in Düsseldorf, Germany. Eastman's nearly 5,000-square-foot exhibit booth is located in Hall 11-A42 at the Messe Düsseldorf and features twice the exhibit space as previous years.

The booth will have interactive displays and information about its expanded Saflex PVB Interlayer product line including Saflex Structural, Saflex Solar, Saflex Acoustic and Saflex Automotive, as well as Vanceva Colors and Illusion White. In addition, Eastman is showcasing the winning projects from this year's Vanceva World of Color Awards design competition.
Visitors to Eastman's booth can also see the world's largest laminated heat-strengthened glass panel made with Saflex Structural PVB interlayer. This enormous laminate pane is comprised of two 12-millimeter, high-quality, heat-strengthened, low-iron glass panes laminated with 1.52 Saflex Structural PVB interlayer. At almost 60 feet long by 10 ½ feet wide, weighing over 7,700 pounds, this interlayer allowed the creation of a laminate 40 percent larger than a glass panel made with conventional PVB.

With its superior structural capacity for strength and stiffness, Saflex Structural PVB interlayer is an ideal solution for limited support project, says the company.