Fall Conference Covers Edge Grinding: Safety versus Aesthetic
Glass with exposed edges is becoming increasingly popular, as architects, designers and building owners look to minimize framing and hardware, and maximize transparency and views in their glazing systems. However, the trend toward more glazing systems with exposed edges creates a challenge for glass fabricators as they work to balance safety and aesthetics, according to Bill Lingnell, owner of Lingnell Consulting Services, and Urmilla Sowell, director of technical services and advocacy for the National Glass Association.
Lingnell and Sowell addressed this challenge during a lunch presentation yesterday, Edge Grinding: Safety versus Aesthetic, at the Fall Conference. The conference runs Sept. 11-14 in conjunction with GlassBuild America: The Glass, Window & Door Expo.
The trend toward minimal hardware and more glass in everything from facades, skylights, partitions and balustrades, often calls for laminated glass for safety and retention. "The expectation from designers and customers is for the same high-quality finished edge they can consistently receive with monolithic glass. This is driving the industry to develop guidelines to accommodate these evolving needs," says Sowell. But, no such exposed-edge guidelines currently exist, beyond what is covered in ASTM C1036, C1048, and C1172.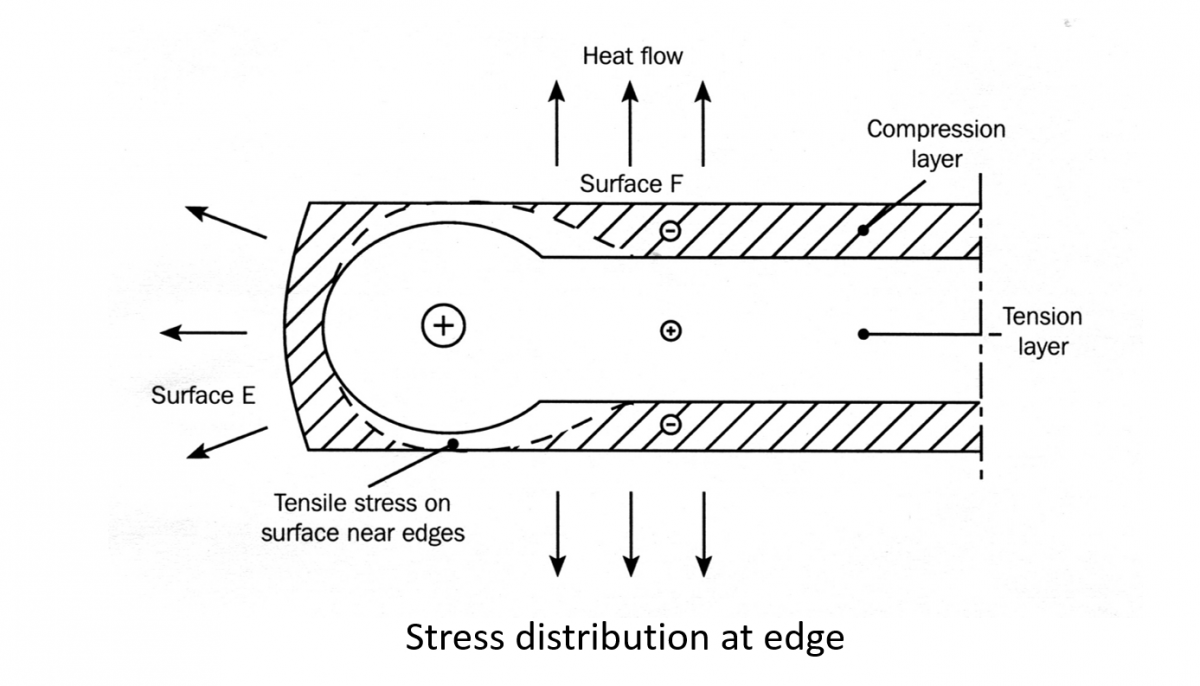 How residual stresses in glass develop. Courtesy of Strainoptics Inc.
"The architects want to see nice smooth edges with laminated glass," says Lingnell. This can present challenges to fabricators. Some fabricators might edge grind and polish the edges of the exposed laminated glass lites to achieve the aesthetic goals of the architects. However, if the glass plies within the laminated lite have been heat treated, this can lead to breakage issues, Lingnell says. Heat treatment creates a compression layer in laminated glass. If grinding encroaches on the surface of the compression layer, breakage can occur after installation.
Edge fabrication should be performed prior to heat treating, says Lingnell. Post-fabrication finishing processes do not comply with the current industry standards that address glass railings and heat-strengthened and tempered glass. Fabricators should understand end product capacity—what it can handle from a performance standpoint—and should educate end users on how to treat the exposed-edge glass product, notes Lingnell.
"What happens when the product meets specifications but is rejected by the architect? This is a concern for fabricators," says Lingnell. On any exposed-edge laminated glass project, it's important for fabricators to read and understand the specifications and to work with the entire project team ahead of time to ensure everyone understands exposed edge specifications.
A task group will be addressing this issue more in depth during Fall Conference.
Download the Edge Grinding PowerPoint presentation.
For more information, attend the Express Learning session Edge Grinding and the Issues Surrounding Fabrication Prior to Heat-Treatment: A Q&A Session at 11:30 on Thursday, Sept. 13. Or follow @GlassMag for updates from the show floor.