EnduroShield to Exhibit Latest Innovations at GlassBuild America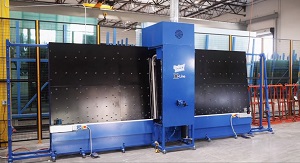 Visitors to GlassBuild America 2019 can view Enduroshield's latest innovations and demonstrations at booth #2548.
EnduroShield offers a complete coating solution for any size business, turning ordinary glass into easy-clean, non-stick surfaces, say company officials. Application is effortless with the X-Line Automatic Coating Machine, already in use at some of the largest glass companies around the world, according to the company. X-Line is a high-speed machine that combines uncomplicated design and smart technology to deliver a user friendly, efficient and economical coating device for easy implementation.
EnduroShield manufactures a range of products to suit partner requirements, such as volume, performance and budgetary needs. This includes the EnduroShield Professional easy-clean range with demonstrably the longest lasting performance of all coatings in its class.