Fairfield Inn & Suites Harrisburg International Airport Features Noise-Abating Rehau Windows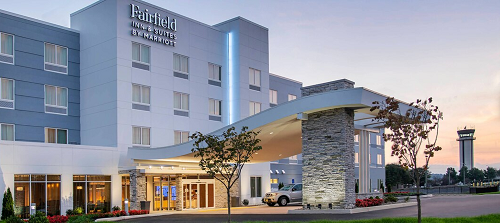 Fairfield Inn & Suites at Harrisburg International Airport features Rehau windows.
Fairfield Inn & Suites at Harrisburg International Airport is a 123-room, Marriott-branded property located directly adjacent to Pennsylvania's third largest airport. With gate areas only a short walk away, the hotel serves more than 1.2 million travelers each year. Guests will not be bothered by airport sounds, thanks to the project's Rehau windows.
"When we were first approached with this project, we knew it was a great opportunity to offer convenience and value to air travelers in need of overnight accommodations," says Bill Hoy, vice president of design and construction at owner/operator Shaner Hotels. "But with the hotel being built in close proximity to the runway, noise infiltration was one of our biggest concerns. We had to be absolutely certain the rooms would be quiet enough for guests to get a good night's sleep."
In addition, because Shaner Hotels employs a long-term investment approach with each of its 51-plus properties, the company doesn't compromise on quality. Hoy needed to ensure the building systems he specified would last long past the sparkle and excitement of the hotel's grand opening.
"We don't build and sell our properties; we're in it for the duration. When it comes to building systems, the cheaper alternatives can really hurt long-term profitability," Hoy says. "That's why we chose Rehau windows ... for this property."
Baskervill was the architect. Kohltech Windows & Entrance Systems manufactured the windows.