Fall Conference 2019 Kicks Off in Toledo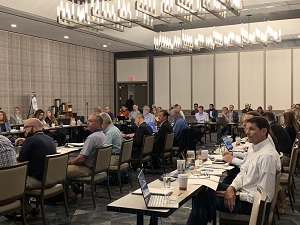 Attendees at Fall Conference 2019. The conference kicks
off in Toledo, Ohio.
The 2019 Fall Conference for the National Glass Association kicked off today in Toledo, Ohio. The conference, held Aug. 13-15, will feature educational and informational sessions on the state of the industry from its leaders.
The conference opens with a meeting of the Forming Committee, which will focus on an industry-wide flat glass environmental product declaration. The session will also offer a flat glass PCR update, and discuss the recyclability of GIB. Following this session is a meeting of the Advocacy Committee, which will discuss the ASHRAE 189 update and the implications of New York City's 2050 Green New Deal.

Review the complete schedule here.