Glass Education and Safety at the IGMA Summer Conference in Vancouver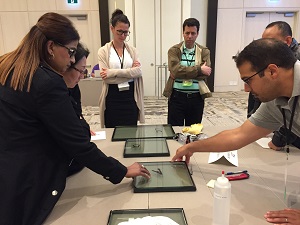 Attendees of the IG Fabricator Workshop
during the IGMA Summer Conference.
The Insulating Glass Manufacturers Alliance hosted its Summer Conference last week in Vancouver. It was the first meeting for the organization since IGMA officials announced in June that the group is pursuing a potential merger with the American Architectural Manufacturers Association.
A joint AAMA and IGMA team is currently working on developing a comprehensive proposal. The team's priorities are two-fold: how to best serve the needs of the current membership and to develop a new organization that best serves the industry as the new organization progresses into the future, according to officials from the two groups. The first combined event will be in summer 2019 in Victoria, British Columbia, Canada.
Education

Education and training took center stage at the Summer Conference. The event kicked off July 30 with a full-day educational forum from the Facade Tectonics Institute, The Good and the Bad: Evolving Considerations and Practices of Building Facade Glazing. Read Glass Magazine's coverage of the Façade Tectonics forum here. And, it concluded on Aug. 2 with the IG Fabricator Workshop Session: Hands-on Forensic Investigations, which offered industry newcomers and veterans an opportunity to learn methods of identifying the causes of insulating glass failures.
During the hands-on session, about 60 participants worked with eight industry leaders to diagnose potential failure-causing defects on sample glass units. "These session leaders have a combined 206 years of industry experience," said Mike Burk, North American representative for Sparklike. "The level of education and experience here is incredible."
The three-hour IG forensic investigation session is one of eight sessions that runs during IGMA's full IG Fabricator's Workshop. The next workshop will run in two sessions, Nov. 5-9, at the Intertek Testing Facilities in Plano, Texas.
IGMA's educational focus directly responds to the industry's ongoing shortage of experienced labor, said Bill Briese, R&D, engineering manager of GED Integrated Technologies and chair of the IGMA Education Committee. "Every time I hire someone new, I send them to the IG seminar," Briese said.
Safety

The organization's Education Committee meeting also included a safety update from Burk, who also serves as chair of IGMA's Glass Safety Awareness Council. "Everyone in our industry should go home every day in the same condition they came in. They shouldn't lose fingers, they shouldn't lose their lives," Burk said.
According to Burk, crush injuries are the most common cause of deaths in the glass industry. "Trucks are level during loading and unloading. Train employees to move if glass is falling. Their instinct will be to try to catch the glass," Burk said.
The industry should also be aware of some important updates to OSHA regulations. One notable OSHA update is a ruling to disallow incentive programs that might dissuade an employee from reporting an injury. This includes signage indicating days without accident or injury.
"OSHA noted that the programs are well intentioned. However, they might cause employees to not report incidents. They don't want to be the person who gets in the way of a pizza party or of a cash reward," Burk said. Click here for additional information on OSHA's ruling on incentive programs.
Burk also noted a recent court ruling regarding liability. In a recent case following the fatal fall of a contractor through a skylight, a court ruled that the foreman's lack of knowledge about the required safety regulations was not a valid defense against liability. The court rejected the argument, saying the company shouldn't be allowed "to use ineffective training as a defense against OSHA's most serious charge," Burk said.
For additional information on plant safety, read Glass Magazine's Plant Safety 101: A guide to creating a culture of safety and preventing injuries in the glass plant.
Emerging technologies and IG certification

IGMA's Emerging Technologies and Innovation Committee Task Groups met on July 31. Topics included IGMA's thermal stress research, discussion of IG gas-fill measurement methods and devices, an update on vacuum insulated glass, and a look at the ongoing issue of life cycle and material transparency requirements.
The committee "provides oversight to the research projects that IGMA undertakes. Thermal stress is one of those such research projects," said Helen Sanders, committee chair, during an introduction to the session. "We are also aware of any new emerging technologies, looking at whether we need standards associated with them, or explanations of how they work and how they can be applied to our industry. VIG is such a technology, and we've created a document explaining VIG that is now available on our website."
The IGMA Certification Task Groups met on Aug. 1 and covered a range of topics from issues of sealant migration, to spacer equivalency, to design considerations for oversized insulating glass constructions.
The event concluded with the Technical Services Committee Task Group meetings. Attendees discussed technical issues affecting insulating glass units, such as unsupported edges, edge pressures, cavity width and more.