Glazing Technician Certification Program Develops Testing Procedures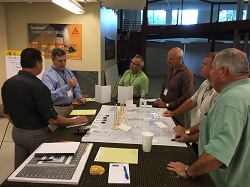 The Physical Test Steering Committee of the Architectural Glass and Metal Technician Certification Program began development of conceptual test apparatuses at a meeting held on Sept. 20, in Hanover, Maryland. The apparatuses will be used by future AGMT certification applicants to demonstrate their proficiency in fundamental physical glazing skills and abilities, the physical test element of the certification exam.
The committee also designed the draft physical tasks that would be assessed as part of the certification requirements. These included various glazing-related assembly and installation procedures utilizing components of curtainwall, storefront and aluminum entrance systems, and proper use of sealants, gaskets and other water management methods.
"Because of the large cross section of glazing industry professionals involved, the steering committee made amazing progress in establishing the physical test requirements," says Mike Laughlin of the International Union of Painters and Allied Trades, DC-21. Construction of three unique prototype test apparatuses is expected to be complete by the first week in December. Further fine-tuning will occur leading up to the next Physical Test Steering Committee meeting, tentatively scheduled for February 2018.
The physical test steering committee represents industry experts from three major stakeholder segments: glaziers, glazing contractors, and the user community consisting of manufacturers, suppliers, architects, consultants and spec writers. "The number of people who have volunteered as industry experts to be part of this effort really speaks to the need for this program," says Jeff Dalaba, project manager. "With 29 members on our steering committees, and others looking to join the effort, we see there's a groundswell of support."
In addition to the physical glazing exam, which will have a large bearing on an applicant's total score, the certification assessment process will also include a prerequisite written exam that will gauge the applicant's knowledge of proper glazing theory and procedures, tools of the trade, construction documents and layout, and quality control and failure prevention measures. The third-party, personnel certification initiative is being developed by Administrative Management Systems Inc. and will be open to all glazing technicians.