Guardian Glass Inaugurates New Laminated Glass Production Line in Hungary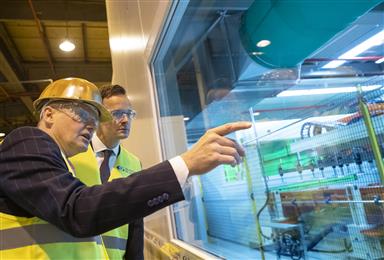 Left to right: Guus Boekhoudt, vice president Guardian Glass, managing
director Guardian Europe s.à r.l. and Péter Szijjártó, Minister of Foreign
Affairs and Trade of Hungary at Guardian's inauguration of its new
laminating glass line, located at its Orosháza, Hungary, plant.
Guardian Glass officially inaugurated the company's new laminating line at its float glass plant in Orosháza, Hungary.

Guardian Glass invested in the new laminated glass production line to support the increasing demand for laminated glass in Europe, say officials. The state-of-the-art line produces both standard and coated laminated glass, as well as specialty products such as acoustic, thick, coated and colored laminated glass.
"At Guardian, we believe that the role of business is to help improve people's lives," says Guus Boekhoudt, vice president Guardian Glass, and managing director Guardian Europe s.à r.l. during the inaugural ceremony. "Glass is fundamental to so many human needs. The desire for a comfortable living space with natural light will not be any different 50 years from now and the need to protect or preserve something while still being able to see it will not change either. This together with the conversion of more and more residential windows from double to triple glazing will result in an increase in glass demand across Europe in the next few years."
The new fully automated line is already producing 150 truckloads of laminated glass per month, primarily for customers in Hungary, Romania and the Balkan countries.
According to company officials, the rising demand for laminated glass is being driven by three long-term trends:
Country-level regulations in Europe require the use of safety glass in an increasing number of fenestration and interior applications, for which laminated glass is the most effective solution.
The desire for buildings to have more natural light is driving the trend towards larger, energy-efficient windows, which requires the use of laminated glass for higher mechanical resistance and security.
A general rise in demand for noise reduction for both residential and commercial buildings has increased the use of acoustic laminated glass.
The new line is also a logical continuation of a change initiated at the plant by Guardian Glass in 2016, which saw a switch from standard clear float glass production to Guardian's higher light transmission alternative, Guardian ExtraClear, to meet the increased need for more natural daylight in buildings.
In addition to the Orosháza plant, Guardian Glass operates facilities in Częstochowa, Poland; Thalheim, Germany; and Ryazan and Rostov, Russia; among its 10 European float plant locations.