H.B. Fuller Opens New Window and IG Technical Center of Excellence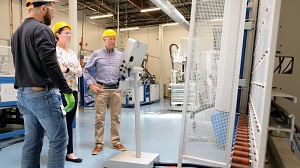 H.B. Fuller opened a new Window and IG Technical Center
of Excellence at the company's world headquarters.
H.B. Fuller opened a new Window and IG Technical Center of Excellence. The center, located at the company's world headquarters in St. Paul, Minnesota, provides a space for customers to generate insulating glass units for testing, try new processing conditions, and generate different systems for comparison—all without taking up time on their own lines. It also can be used as a training center to help customers better understand the capabilities of a line and how to use the products.
"We wanted to create a collaborative space for R&D, customer and commercial teams to test new ideas, evaluate products and demonstrate our world-class capabilities," says Brian White, technical manager for the North America IG and window business.