Hegla Corp. Breaks Ground on First Production Site Outside Germany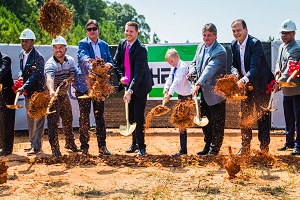 Frank Schürmann (third from left) (LEWAG Holding AG
Executive Board), Jochen Hesselbach (LEWAG Holding
AG Executive Board) with his son, A. Hesselbach, Elmar
Zeidler (HEGLA Corp. CEO), and Bernhard Hötger
(HEGLA Group CEO).
Hegla Corp. held a ground-breaking ceremony for its new production site in Stockbridge, Henry County, Georgia. Representatives of the LEWAG Holding AG executive board, Jochen Hesselbach, Frank Schürmann, and Andreas Wiegran, Hegla Group CEO Bernhard Hötger, and Hegla Corp. CEO Elmar Zeidler, laid the cornerstone of the new production site.
The representatives of LEWAG Holding AG and the Hegla Group wanted to find a location close to the current Hegla Corp. headquarters in Forest Park. "HEGLA Corp. plays a huge role in our success, and they have proven their importance to the Hegla Group as a whole," says Jochen Hesselbach, chair of the LEWAG Holding AG Executive Board, in his welcome speech. "This has encouraged us to strengthen our presence in North America so that our customers here can enjoy more efficient access to our resources and the same reliability we provide throughout our Group."
The building, which will have around 33,000 square feet of office and warehouse space, is due to be completed by April 2020. The grand opening ceremony, which will include a live demonstration of the final assembly process for customers and interested visitors, will follow in May. "Over the course of the next 12 to 18 months, we hope to create around 30 new jobs at the site, thus bringing the Hegla Corp. workforce up to almost 50 employees," says Bernhard Hötger, CEO of the Hegla Group. The aim will be to keep expanding the production site, and hopefully doubling its size in a few years' time, say officials.