Industry Leaders Tackle Code, Regulatory and Fabrication Challenges at NGA Fall Conference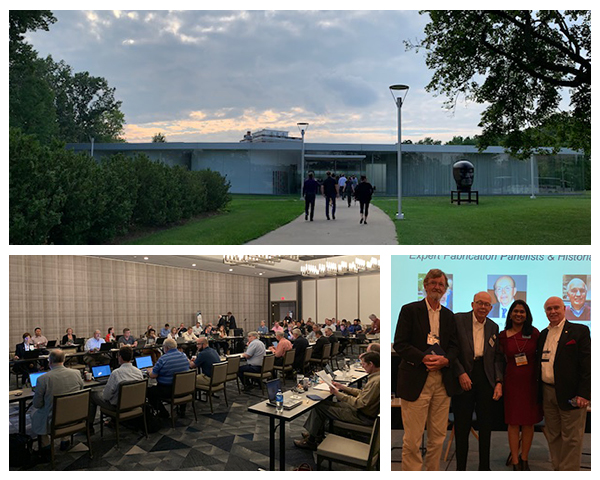 Clockwise from top: Fall Conference attendees at the Glass Pavilion, Toledo Museum of Art. NGA Technical and Advocacy Director Urmilla Sowell with industry 'old guard' experts Chris Barry, Stan Joehlin and Bill Lingnell. Members of the Fabricating Committee.
Industry technical leaders gathered in Toledo, Ohio, the "Glass City," last week for the Fall Conference for the National Glass Association. Leading the agenda were discussions of product transparency declarations, need-to-know updates to building codes and standards, and solving glass processing challenges. NGA's committee volunteers also made progress on a number of important education, technical and advocacy resources.
The three-day conference included meetings for three of the NGA's four committees: the Advocacy, Forming and Fabricating Committees. The Installing Committee will gather next month at GlassBuild America in Atlanta.
In addition to committee work, conference attendees were able to participate in a tour of the nearby Pilkington/NSG Group Rossford, Ohio, float glass facility, and attend a reception at the Glass Pavilion at the Toledo Museum of Art.
The Fall Conference also combined with the Old Guard Reunion—an annual gathering of industry veterans with long-running friendships and collaborations in glass fabricating. During the conference, several members of the "old guard"—Chris Barry, Stan Joehlin and Bill Lingnell—participated in a keynote panel offering insights on fabrication challenges and solutions, understanding glass defects and future industry trends. The groups joined for the Old Guard Reunion dinner, bringing together about 100 industry representatives touting 2,036 years of combined experience in glass.
The committees will meet next at the NGA Annual Conference, to be held at Hilton Torrey Pines, La Jolla, California, Jan. 13-15, 2020. Learn more about all upcoming NGA events.
Committee updates
Forming
The Forming Committee is making headway towards an industry-wide flat glass EPD with a draft being circulated for review. Recyclability and raw material resource management generated productive discussion among attendees. The NGA will be sending out a survey to members of the Forming and Fabricating Committees addressing a range of questions around the topic of recyclability, including how cullet is separated, what economic incentives are available to companies, and how members can work together to increase the opportunities for recycling across the supply chain. The Committee has also established a task group to develop a resource on the do's and don'ts of architectural glass recycling from flat glass manufacturers to fabricators.
Advocacy
The Advocacy Committee highlighted specific goals to promote codes, standards and regulations that positively affect glass in the built environment; educate the industry, stakeholders and consumers about the benefits of glass; and increase communication and education about the importance of NGA advocacy initiatives. Committee members are discussing how to address daylighting in interior space to support healthcare, education and office environments and occupant wellbeing by developing language to propose to the International Building Code. In addition, the committee will be launching a new program to equip interested members to advocate on behalf of the industry to their legislative and regulatory representatives. Members should stay tuned for more information on how to get involved.
Fabricating
Within the Fabricating Committee, the Tempering Subcommittee has accomplished a number of important updates this year. Documents on Point Supported Glass and Thermal Stress in Heat-Treated Spandrel Applications have been published, as well as the ever-important Engineering Standards Manual. Topics addressing post-finishing and frameless shower enclosures were brought up as new work items.
The re-publication of the Laminated Glazing Reference Manual and the Hurricane Product Substitution bulletin are two major accomplishments of the Laminating Subcommittee. Resources on school security, glass floors and stairs, and deflection testing remain key activities being finalized.
Within the Protective Glazing Subcommittee, the Protective Glazing 101 AIA presentation is nearly ready to be republished and approved with AIA. This will be a resource for members to use as they perform lunch and learns with their area contacts. Resources on bird-friendly and security glazing are also under development.
The Energy Subcommittee has published its new bulletin, Energy Applications. It is also reviewing and maintaining its online resources at glasswebsite.com/daylighting. It is a reference center for many publications available on the benefits of view and daylighting. This website will be utilized by the Advocacy Committee in the development of a member outreach team.
Fabricator Considerations for Large Glass Products is a new resource under development within the Insulating subcommittee. This task group is met with defining what constitute a product being considered "large" – both in size and weight. In addition, Vacuum Insulating Glazing is another new task group that is using Fabricating Committee member feedback to shape the development of an introductory educational document on the capabilities of VIG products. The Compatibility Testing of Glazing Materials Related to the Performance of PIB in IGUs resource was a joint effort between NGA and IGMA, which is now available online for purchase. A joint task group is also in process of developing a compatibility test procedure in order to recommend performance criteria of PIB.
The Fire-Rated Glazing Subcommittee will be addressing relevant text within the Glazing Manual in order to describe the enhanced and broadened uses of fire-rated glazing products for other purposes such as energy performance and security.
The Mirror Subcommittee will be updating its Green Aspects of Mirror, specifically addressing the use of copper-free mirror product.
The Decorative Glass Strength Properties document is updated resources now available to download online. The Decorative Subcommittee continues to work the important and complimentary resources on Defining an Acceptable Color Variance, Measuring Color Variance in the Field, Best Practices for Installed Decorative Paints and How to View Decorative Products in Interior and Exterior Applications.
New publications
NGA's various task groups have been busy creating resources for the industry. Below is a summary of newly published materials so far this year:
Engineering Standards Manual
Laminated Glazing Reference Manual
Assessment of Decorative Glass Strength Properties
Products for Energy Applications
Glass Properties Pertaining to Photovoltaic Applications
Glossary of Terms for Color and Appearance
Proper Procedures for Cleaning Flat Glass Mirrors
Proper Procedures for Fabrication of Flat Glass Mirrors
Proper Procedures for Receiving, Storage and Transportation of Flat Glass Mirrors
Coastal Glazing and the Turtle Codes
Assessing the Durability of Decorative Glass
LEED White Paper - Mirror