Industry Volunteers Take Center Stage at NGA Annual Conference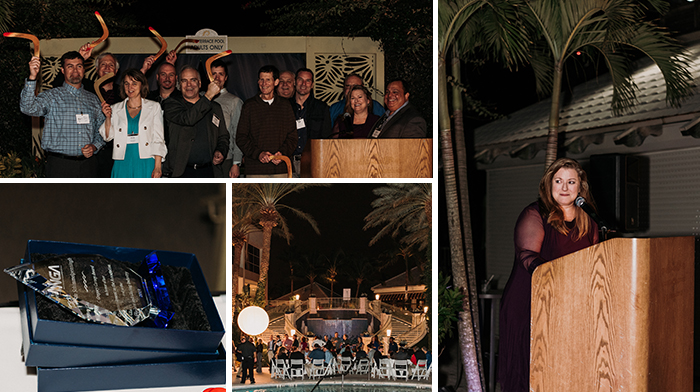 Pictured: (Clockwise, from upper left) The NGA 2019 Boomerang Award recipients; C. Gregory Carney Award recipient, Julia Schimmelpenningh; the 2019 volunteer award dinner; the C. Gregory Carney Award.
During its 2019 Annual Conference, held last week in Naples, Florida, leaders from the National Glass Association recognized volunteers at an awards dinner. "We're celebrating our members and volunteers and all of your contributions," said Angelo Rivera, NGA board chair and vice president of Faour Glass Technologies. "This couldn't happen without you."
Rivera noted the efforts of the volunteers across the NGA's technical committees and presented NGA committee chairs and technical liaisons with Boomerang Awards. "The metaphor is pretty straightforward. A boomerang has been specifically designed to return. We're honoring and thanking the industry 'boomerangs' that have returned and continue to come back for the betterment of our industry. … When our volunteers and members unite, we are absolutely a force to be reckoned with. We are strong, and we cannot be ignored."
The 2019 NGA Boomerang Award recipients include:
During the awards dinner, NGA officials also presented the C. Gregory Carney Award, the organization's highest honor. The 2019 recipient of the award is Julia Schimmelpenningh, Laminating technical liaison, who serves as global architectural applications manager for Eastman Chemical Co.
The award is named after Greg Carney, who served as the Glass Association of North America technical director for more than 20 years. "It is award to an individual who advocates for the industry and demonstrates the association's mission and values in the industry. … An individual who is doing what's right for the industry as a whole," said Urmilla Sowell, technical director of the NGA.
Schimmelpenningh worked closely with Carney in the development of many ASTM standards, "all while advocating for industry best practices … and elevating the entire industry," said Sowell. Schimmelpenningh has been an active volunteer at GANA and the now-combined NGA and GANA. She has been actively involved in committees and task groups, was a past GANA president and board member, and currently serves on the Integration Task Group. She holds leadership positions with ANSI, ASTM and ISO. "She is an eager volunteer, both for our association and for the industry as a whole," Sowell said.
In accepting the award, Schimmelpenningh recalled the mentorship that Carney provided to the industry. "He instilled values in so many of us. … He taught me, 'you're never an expert—you need to learn something every day. You need to teach something every day. And you need to do what's right all the time,'" she said.