James O'Callaghan Receives Jorma Vitkala Award of Merit at GPD 2019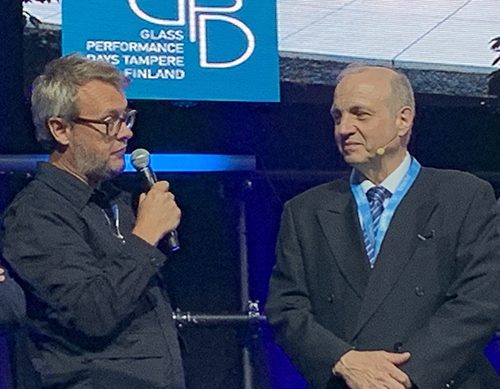 James O'Callaghan (left) and Jorma Vitkala during the 2019 GPD Opening Ceremony.
James O'Callaghan, senior director of Eckersley O'Callaghan, received the Jorma Vitkala Award of Merit during the Opening Ceremony of Glass Processing Days 2019, held June 26-28 in Tampere, Finland.
The award was introduced in 2017 to honor and reward individuals or contributors who have made outstanding personal contributions to the progress and development of the international glass industry. Such contributions can represent product or process development, new innovations, systems, construction, design, architecture, ambitious research initiatives and advanced learning. The award is named for Jorma Vitkala, who launched GPD in 1992 and has served as its organizing committee chair since then.
Vitkala, who received the first award of merit in 2017, presented the award to O'Callaghan. "James, you have done a lot for the glass industry, pushing the limits … pushing the industry and the processing industry to do more than whatever they have done before," Vitkala said. "On top of that, you have given a lot to education. … This is the GPD spirit. Knowledge grows when knowledge is shared."
In accepting the award, O'Callaghan noted that complex, limit-pushing projects are not possible without connections and collaboration across all segments of the industry. "It is when we are here together that we make connections. Those connections are vital for us to be able to do the work that we do, to push the innovation, to do great projects, make clients' dreams come true," he said.
Nominees for the 2019 Jorma Vitkala Award of Merit came from an open nomination process. A panel of judges from GPD sponsor companies and press organizations, including Glass Magazine, determined the finalists and winner.