The Mid-Atlantic Glass Association Hosts an Expanded Expo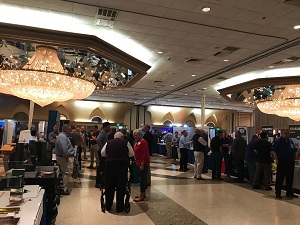 This year's Mid-Atlantic Glass Expo welcomed 942
attendees and 163 exhibitors.
The 32nd annual Mid-Atlantic Glass Expo, hosted by the Mid-Atlantic Glass Association, convened on Wednesday, April 17, at Martin's Crosswinds in Greenbelt, Maryland. The expo hosted 163 exhibitors, including 15 new exhibitors. The Association itself welcomed 11 new members this year.
The 942 attendees enjoyed a slightly longer show this year, which ran 2-8:30 p.m. The evening also debuted a new educational segment, featuring short presentations on MyGlassClass.com. Hosted by Jenni Chase, content director for the National Glass Association, the presentations informed attendees about the site's more than 60 courses designed to train new glass industry personnel.
"We had good input from different glaziers about education being available," says Trevor Elliot, past president of the Mid-Atlantic Glass Association, and order pursuit manager for Kawneer, in an interview after the expo. "Having NGA-GANA working with MGA creates a lot of synergy."

An expanding expo
Confirmed as a strong show for networking by several exhibitors, many also commented on the increasing size of the expo. "The show used to be intimate, but it's expanded quite a bit over the years," says Mike Nicklas, director, engineered glass systems, J.E. Berkowitz, who has been coming to the show for about 10 years.
Exhibitors connected with contacts old and new. "We're here rekindling relationships. We've also seen new hires come around to be introduced," says Michael J. Meissner, sales manager, dormakaba.

A strong market, and strong forecast
All exhibitors that were interviewed characterized the current market as strong. "I hope it keeps up," says Chip Olson, head of U.S. sales, Quattrolifts. "I can't be busier than I am right now."
"In 2019, we're preparing for another good, busy year," says Elliot.
While recognizing the possibility of a potential economic slowdown in 2020, most exhibitors remained optimistic about performance in 2019 and 2020. "We've heard '2020'. We're preparing to be a better company regardless of what happens," says Joseph Sennese, director, architectural development, Vitro Architectural Glass. "The industry might have a slowdown, but not on the scale of the Recession."
"We're confident 2019 is going to be a strong year," says Jeff Emerich, territory sales manager, Guardian Glass. "There's lots of architectural activity. There may be a slowdown at some point, but it's not imminent."
Several glass industry members also affirmed the strength of the Mid-Atlantic market in particular. "It's definitely very strong at this point. I cover half of North America [for Kawneer], and this is still where a lot of our focus is," says Elliot.

"The [Mid-Atlantic] territory has fared well, even during 2008," says dormakaba's Meissner. "This market is one of the best in the country."