NGA Announces New Glazier Training Options at BEC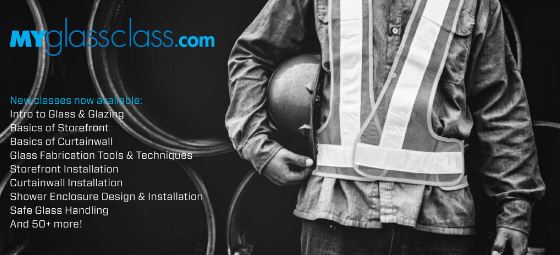 Recognizing that glazier training is a financial and time burden for many companies, the National Glass Association launched the new MyGlassClass.com, along with other training initiatives, at the BEC Conference in Las Vegas this week.
The new MyGlassClass.com website features more than 60 classes that employees can take online on their smartphone, tablet or desktop. Each of the classes varies in length from 20 minutes to 1.5 hours and is designed to teach learners basic job skills and knowledge specific to the glazing trade.
"The online courses, coupled with NGA's technical and training manuals, provide companies with the previously unavailable resources necessary to train glaziers," says NGA's Jenni Chase, director of education, training and content. "Building on the MyGlassClass.com classes, NGA is now developing a glazier training 'toolkit' that will serve as a guide for glass companies to set up their own training program, or to take it a step further and create a training program within their state."
"At NGA, we are dedicated to advancing the industry as a viable, thriving and exciting career path," says Stephanie Oakley, associate director of education and training for NGA. "We're committed to helping glaziers along that path: from training them as new employees to aiding in their continued education."