NGA's Guide to Exit & Succession Planning Named Best Business Book of the Year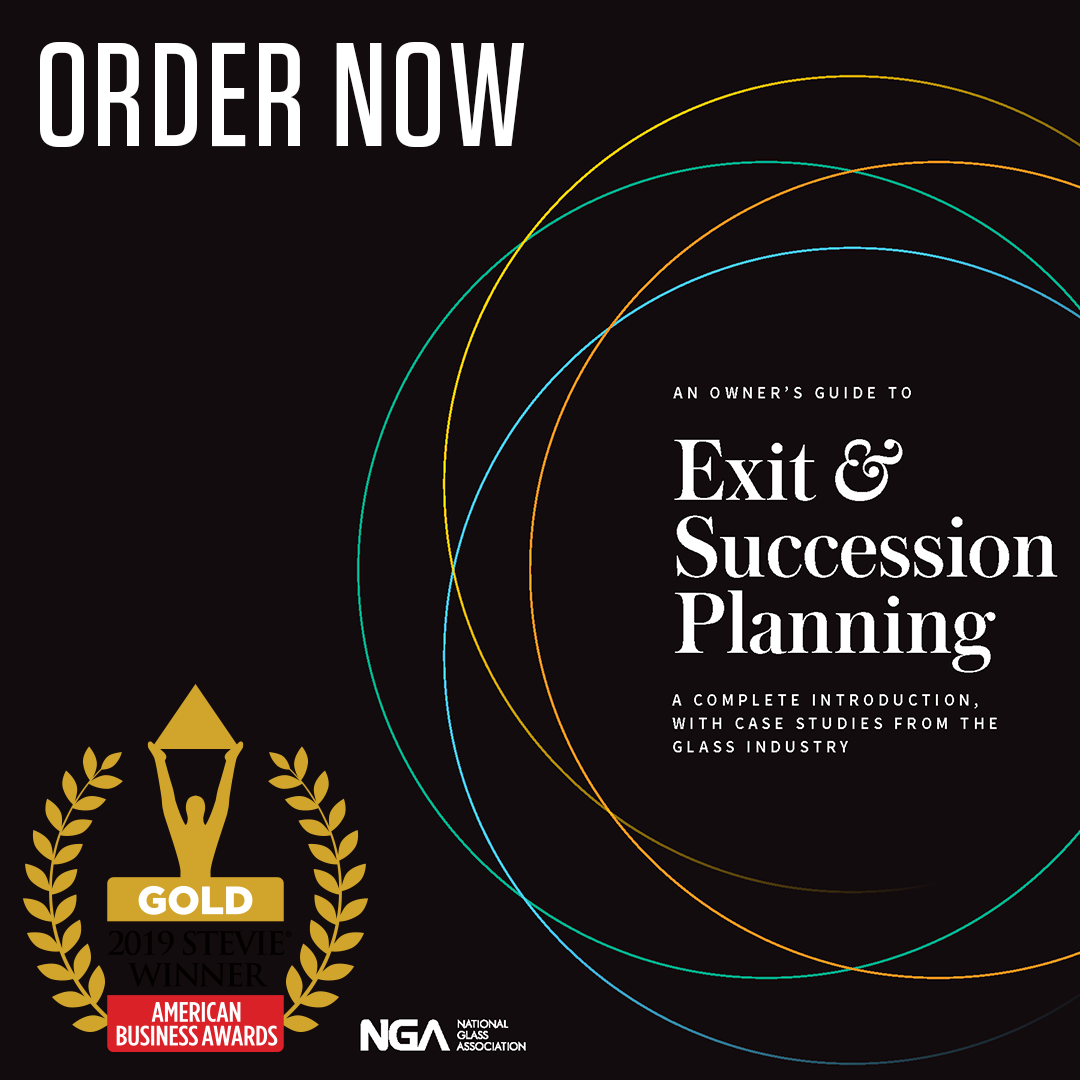 The National Glass Association received the Gold Stevie Award in the Best Business Book category in the 17th Annual American Business Awards for "An Owner's Guide to Exit & Succession Planning: A Complete Introduction with Case Studies from the Glass Industry."
The American Business Awards are the premier business awards program in the United States. All organizations operating in the United States are eligible to submit nominations—public and private, for-profit and non-profit, large and small. More than 3,800 nominations from organizations of all sizes and in virtually every industry were submitted this year for consideration in a wide range of categories.
Leaders at NGA and its official industry publication, Glass Magazine, teamed up with experts from Beacon Exit Planning LLC to produce "An Owner's Guide to Exit & Succession Planning." The book aids business owners as they navigate the complex process of exiting a business and developing the next generation of leaders.
This guide features in-depth exit management information from Beacon Exit Planning paired with case studies from the glass industry, compiled by Glass Magazine editors. In these case studies, owners from a range of industry companies share their stories of ownership and management transition. Editors spoke to a family business finding a way to pass the company to the fourth generation of owners; to the owner of a billion-dollar supplier navigating a path to retirement; to a glass fabricator managing a sale to a private equity firm; and others.
"This book provides key information to an industry of owners at a critical time. [It is] well-written, filled with salient facts (and myths debunked!), and warmed up with case histories. This is a fabulous tool that an owner would WANT to read and explore," according to one Stevie Award judge.
"[The] practical advice seems immediately applicable and/or easy to build specific planning goals around," said another judge. "The addition of case studies added a component of realism and real world, lived experience significance."
More than 200 professionals worldwide participated in the judging process to select this year's Stevie Award winners.
"The nominations submitted to the 2019 American Business Awards were outstanding. They illustrate the continued vibrancy of innovation and high level of achievement across the American economic landscape," said Michael Gallagher, president and founder of the Stevie Awards.
Details about The American Business Awards and the list of 2019 Stevie winners are available at StevieAwards.com/ABA.
To learn more about "An Owner's Guide to Exit & Succession Planning," and to purchase the award-winning book, visit exit-planning.glass.org.