PGT Assesses Florida Keys Damage Post-Irma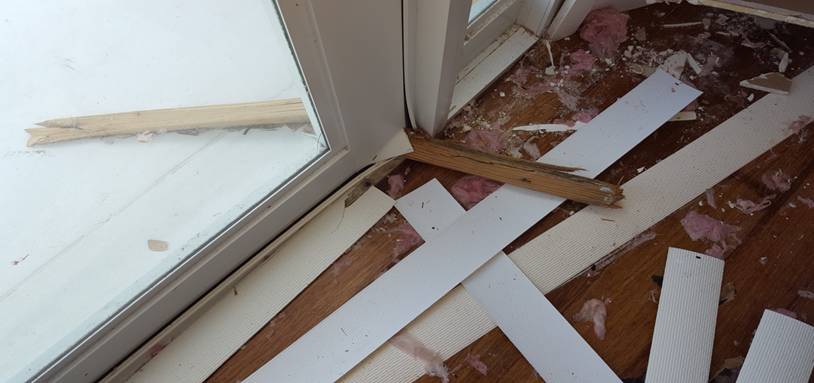 Wind borne debris penetrates a door framing member at a home in Florida post Irma.
The Atlantic hurricane season does not technically end until Nov. 30, but communities impacted by Hurricanes Harvey, Irma, Maria and Nate are deep in the process of recovery and rebuilding. Dean Ruark, director of product management, PGT Innovations Inc., in collaboration with a team of professional engineers from PGT, and in association with the University of Florida, has been specifically assessing post-storm structural damage caused by Hurricane Irma in Florida in order to evaluate the success or failure of hurricane-resistant impact systems and of Florida's impact code requirements.
Hurricane Irma made landfall in Florida on Sept. 10. It hit the Florida Keys as a Category 4 hurricane with 130 miles per hour winds before moving slowly up the western side of the Florida peninsula as it weakened in intensity. Ruark and the team from University of Florida looked at damage caused by Irma across the state, including in the Florida Keys, Naples and the Marco Island area. With his team, Ruark systematically reviewed residential areas, using a comparative approach to gauge systems' sucess. "We go down a street that looks good, and we try and find what went on with that one," says Ruark. "We took photos, and then compared them to other homes, especially adjacent homes."
The failures of structural systems can be as informative as the successes, but sometimes the damage was too great to determine the reason for the house's destruction, Ruark says. "When there's very little left, it's hard to understand the failure," he says. It was easiest to assess how systems performed when the structure was "caught in its after-storm state," before any reconstruction had started, he says.
Post-Irma, Ruark has found that hurricane-rated impact systems performed well. "The codes are definitely working, and newer structures fared really well. They looked fairly spotless [in some areas]," he says, while older construction experienced signficant damage.
Revisiting Florida's impact codes
ASTM E1996 criteria has loosened impact test standards, and removed wind zone 4 protection requirements for the Florida Keys.
Despite the largely successful performance of impact-glazing during Irma, Ruark cautions that there are lessons to be learned from the storm, and recommends that code standards be kept high to prepare for future extreme weather. "There were absolutely some instances that put impact codes to the test," says Ruark.
Florida touts the most stringent impact code requirements in the country. However, not all impact requirements are equal across the state. The Keys, for example, adhere to requirements outlined in the Florida Building Code. Meanwhile, the stricter impact criteria that regulates construction in the High Velocity Hurricane Zone covers Miami-Dade and Broward counties.
Ruark suggests that the intensity of Irma may require changes to impact-testing. Though the upcoming 6th edition of the FBC, taking effect Dec. 31, 2017, will not substantially alter impact requirements, ASTM E1996 criteria has loosened impact test standards, and removed wind zone 4 protection requirements for the Florida Keys, a standard that requires windows and doors to resist multiple impacts.
"We saw real-world results in Hurricane Irma's aftermath in the Florida Keys where windows and doors took major debris impacts to window framing members as well as multiple debris strikes to the glazing," says Ruark."We saw types of impact that pushed beyond the way that most windows are tested." His team currently recommends adhering to Dade County protocols, which requires doors and windows to be tested for multiple impacts, both glazing and framing.
"We constantly talk about these things—we should be having conversations around this storm," says Ruark. "There are things we need to continue to do, and things we need to change."