Press Glass to Build Second U.S. Facility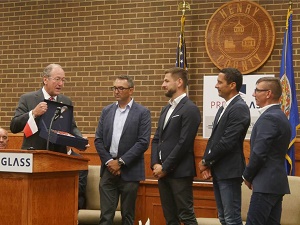 Photo by Benjamin Williams, courtesy of Martinsville
Bulletin.
Press Glass Inc. will build a second plant in the United States, to be located in Henry County, Virginia. The 280,000-square-foot plant will be built in Commonwealth Crossing Business Center, with construction to commence towards the end of 2018, becoming operational in 2019, according to the company.

Press Glass Inc.'s second location will be situated near its original U.S. facility in Stoneville, North Carolina, also the location of the head offices. Both plants will form an efficient and flexible system of links to mutually support their actions, the company reports.
Company officials estimate that the $43.5 million-dollar plant will be commissioned at the end of 2019. The new plant will specialize in production of glass for commercial buildings and will be equipped with state-of-the-art machinery. The Henry County facility will gradually increase its performance and offered range to ultimately provide a full range of products demanded by the target market. The new location will require an estimated workforce of 200, say company officials.