Roto Adds John Miller to Sales Team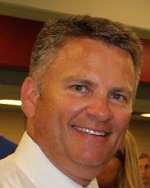 Roto hired John Miller of Tek-Parts as part of its sales team. Miller will support Roto's customer base in a seven-state region on the West Coast. He brings over 29 years of experience in the window and door industry, with a focus on both sales and technical support.
"John joins our team at a time when we are building momentum by combining quality hardware products and excellent delivery service," says Dan Gray, director of sales. "John will work closely with Pat Donnelly to advance Roto's position as a leading supplier of hardware to the fenestration industry."