Roto Group to Change Structure in 2019
Roto Frank Group will undergo structural changes, effective Jan. 1, 2019. The Group will be comprised of three, instead of two, independently managed divisions (see figure below for a map of the new formation.) The changes will not affect the Americas region.

According to the company, the changes aim to make the divisions more independent, agile and customer-focused.

In addition to the company's window and door division—which is operating globally—as well as the roof window division, a third division, Roto Frank Professional Services, will be added. The new division will incorporate the recently acquired service businesses, focusing on building maintenance, window replacement and spare parts.
The three divisions will report to a newly created non-operative holding parent company which will consolidate the financial results, work on group wide strategies, acquisitions, corporate design and identity, and also serve a supervisory role for the divisions.
Dr. Eckhard Keill, currently running the window and door division, will become the new head of holding. A new head of the window and door division will be announced in 2019.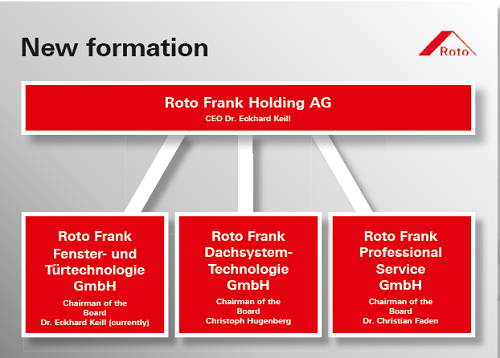 The new structural formation for Roto Frank Group.