Safti First Adds Local Reps in Mid-Atlantic Region
Lawton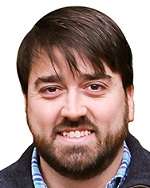 Hall
Safti First welcomed Shawn Lawton and Charlie Hall as local architectural representatives in the Mid-Atlantic region.
Shawn Lawton of Lawton Architectural Products will be adding Maryland, Washington, D.C. and Northern Virginia to his territory.
"Shawn has a proven history of results for Safti First and the fact that he already covers the territory for Oldcastle BuildingEnvelope made this decision very easy," says Tim Nass, vice president of national sales at Safti First. "His industry knowledge and experience make him an excellent resource for architects and glaziers alike."
Charlie Hall of Division 8 Services will be handling eastern, central and southern Virginia.
"Charlie has built a very successful business and loyal customer base through his work with Tubelite," says Nass. "Safti First is happy to be a part of his product offering and we are looking forward to building our business in this region."
Both Lawton and Hall have many years of experience not just in fire-rated glazing and framing, but the fenestration industry as a whole. They are part of Safti First's network of over 30 local architectural representatives in the U.S., Canada and the Middle East.