Safti First Joins Giving Tuesday by Distributing 200 Thanksgiving Meals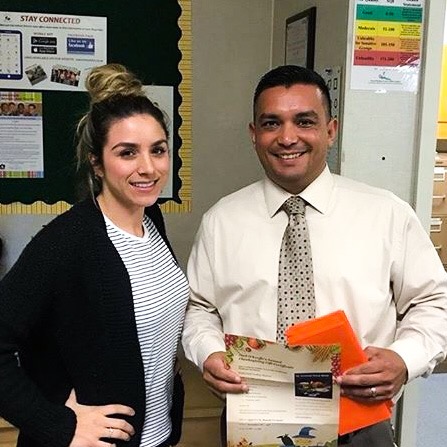 Jazette Drew, purchasing manager at Safti First,
with the principal of a neighboring elementary
school.
Safti First will be participating in Giving Tuesday by donating 200 Thanksgiving meals to students and their families across four elementary schools near its manufacturing facilities in Merced, California: Margaret Sheehy, Leontine Gracey, Alicia Reyes, and Don Stowell Elementary Schools. Each school awards 50 students with a certificate to claim a traditional Thanksgiving dinner that includes: a full pre-cooked Butterball turkey, turkey gravy, stuffing mashed potatoes, green beans almandine and cranberry sauce.
Families can present the certificate to the Merced Raley's store from Nov. 19-22, 2018. This is the 8th year in a row that Safti First has partnered with the local community to sponsor thanksgiving dinner meals.