SC Railing Welcomes New Illinois Sales Representative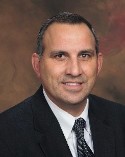 SC Railing welcomes Hi-Performance Glazing Solutions as representative for the Illinois territory. The company works with architects, engineers and glazing contractors to offer specification and design assistance.
Bill Zientarski, president, Hi-Performance Glazing Solutions, brings over 20 years of glass industry experience, along with a career in the U.S. Air Force as an Officer and aviator. Zientarski is an active member of the Chicago chapter of Construction Specifications Institute and a Certified Construction Document Technician.
"As we continue to expand our national presence with best in class representation, SC Railing is excited to open the Illinois market with Hi-Performance Glazing Solutions. Bill Zientarski brings exceptional talent, and premier customer service values that continue to make SC Railing an industry leader. We anticipate great success building our brand and customer base in Illinois together with representation of the highest caliber and expertise" says Shelly Farmer of SC Railing Co.