SDC Appoints Industry Veteran to Spearhead Glass Door Initiative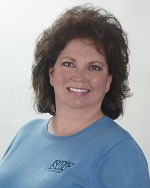 Security Door Controls appointed Mary Hester, a 17-year glass industry veteran and the company's central regional sales manager, to lead a new initiative for easing the adoption and practical application of electrified hardware to glass doors. The new initiative comes as a response to increased demand from the glass industry for access and egress door control solutions, say company officials.
"Since Mary came on board at the end of 2016, we've been working on programs to leverage her extensive knowledge and experience in the glass industry for the benefit of glass and glazing professionals and organizations," says Shane Geringer, SDC's president and CEO. "This segment has unique needs and a desire to tap in on the tremendous growth potential for electrified hardware, access controls, and compliance solutions specific to their markets and customers."
"I can't count how many times in the last few years I've been told that my friends in the glass business have wondered what I've been up to," says Mary Hester. "Although I've been here the whole time, we're now ready to integrate a whole set of SDC product solutions and training that demonstrate the incredible opportunities to design or retrofit electrified hardware."
To that end, Hester is overseeing the assembling of SDC's many code compliant, electrified hardware products—door operators, exit devices, access controls and locking devices—into complete electronic system solutions for glass doors. Besides originating comprehensive training modules, Hester has worked extensively with SDC's product and marketing personnel to ensure glass professionals will have the information, benefits and installation details they need to be proficient, efficient and cost-effective in selling electrified hardware and solutions.
"Look for our specific Glass Door Solutions initiative sometime in the second quarter of 2019, on the website and in our marketing," says Hester.