Spectrum Metal Finishing Hires Jared Ruggieri As National Sales Manager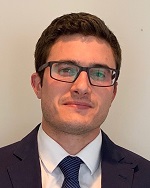 Spectrum Metal Finishing hired Jared Ruggieri as national sales manager. In this role, Ruggieri will serve as the company's first national sales manager, working with senior management to develop and benchmark sales and customer service strategies.
Ruggieri joins Spectrum after a six-year stint at Oldcastle BuildingEnvelope, where he most recently worked in engineered curtainwall sales, covering Pennsylvania and Midwest markets. Prior to his joining OBE, Ruggieri was employed by Santelli Tempered Glass in their Southeast and Florida markets.
"Jared has a well-established track record in sales leadership, client service and business forecasting," says Neil Chrisman III, president, Spectrum Metal Finishing. "As Spectrum Metal Finishing focuses on continued growth, Jared will work closely with our senior leadership and national sales team to build a cohesive marketing and growth strategy."