Suntuitive's Dynamic Glass Makes its Mark in Australia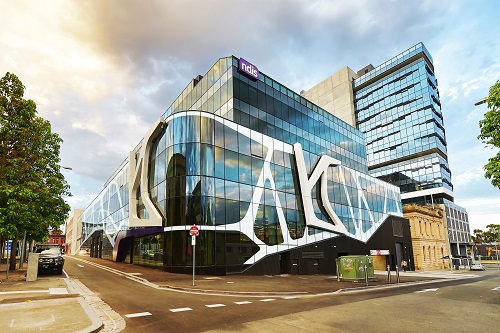 Suntuitive supplied more than 32,000 square feet of its dynamic glass to the National Disability Insurance Scheme Headquarters, located in Geelong, Australia.

Suntuitive Glass teamed up with Glassworks, an Australian fabricator, to supply the new National Disability Insurance Scheme headquarters in Geelong, Australia.

This project features more than 32,000 square feet of Suntuitive Dynamic Glass in both flat and curved options. Incorporating the Suntuitive interlayer enabled the building to have a smaller plant, and thereby less electricity is required to cool the building, say officials. According to the company, the developer also liked the design freedom this glass allowed by not having to incorporate fixed overhangs or mechanical louvers to obtain the desired energy saving effect. The client, National Disability Insurance Scheme, also has employees working in the facility with visual impairments and the fact that Suntuitive's product stopped unwanted glare was seen as a significant bonus.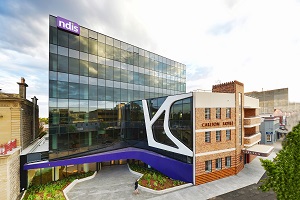 Suntuitive supplied its solar responsive thermochromic insulating glass units. The units comprise a laminated unit of 6-millimeter Suntuitive glass in crystal gray, a dynamic PVB interlayer, and a layer of 6-millimeter clear glass. The IGU also had a 12-millimeter argon cap with a unit of 8-mm LoĒ³-366, manufactured by Cardinal Glass.
Suntuitive dynamic glass is able to self-adjust the solar heat gain coefficient and visible light transmittance based solely on the intensity and position of the sun. As the building's needs change throughout the course of the day or between the seasons, the glass is able to adapt with a variable SHGC of 11 to 50 percent and VLT of 13 to 32 percent, say company officials, the highest figure being in full shade or in the absence of sun and the lowest being with the full sun hitting the external surface. Even the highest-performing low-E IGUs and permanent dark tints on the other hand offer fixed performance and therefore thermal control or visibility is always somewhat compromised.
The architect was Woods Bagot, Kane Construction was the builder. Minesco was the glazier, and Glassworks AUS was the glass fabricator. Suntuitive by Pleotint provided the dynamic interlayer.