Technical and Advocacy Activities Move Forward at NGA Annual Conference
Summary of new NGA technical resources:

Fire-Rated Glazing Today AIA Presentation
Component Substitution for Hurricane Impact Fenestration GIB
Unsupported Edge Conditions of IGUs GIB
Coming soon:

Laminated Glazing Reference Manual
Engineering Standards Manual
Heavy Glass Door Manual
Protective Glazing 101 AIA Presentation
Coated Glass AIA Presentation
Daylighting GIB
Glass Properties Pertaining to Photovoltaic Applications GIB
Tornado Resistant Glazing GIB
Glass in Furniture GIB
More than 120 representatives from leading glass fabricators, manufacturers, industry suppliers and more gathered in Naples, Florida, Jan. 22-24 for the National Glass Association 2019 Annual Conference. During the conference, the active volunteer force of the association continued its work on technical, advocacy and educational activities affecting every industry segment. Some updates from the various association groups:
FORMING COMMITTEE
The association is facilitating an industry-wide flat glass Environmental Product Declaration, or EPD, with voluntary participation by four of the primary float manufacturers. A first draft ois due in April.
A task group was formed to address recyclability and raw material resource management. The Recyclability of Architectural Glass GIB will be updated to include dos and don'ts of architectural glass recycling. NGA staff will draft FAQs and related resource information. Glass fabricators will be surveyed about current processes and glass waste.
ADVOCACY COMMITTEE
A task group will develop language to address daylighting in interior space to support healthcare, education and office environments and occupant well-being.
Staff will draft a communications and promotion plan to increase visibility of the "Health & Wellness Benefits of Daylighting" website resource compiled by member volunteers.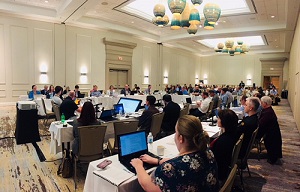 The NGA Fabrication Committee, meeting during the
2019 Annual Conference in Naples, Florida.
FABRICATING COMMITTEE
Fabricating Committee Technical Liaisons reported on current and new activities.
Decorative:
The group is working on several tasks, including: updating the Bird-Friendly Glazing GIB to reflect new Canadian Standards Association, CSA, criteria; defining an industry-accepted color variance, or delta E, for decorative glass; determining best practices for installed painted decorative glass (and discouraging painting glass products post-fabrication); and, utilizing ASTM C1048 and C1172 to provide guidance on how to view decorative products in interior and exterior applications.
Product Category Rules, PCRs, and Environmental Product Declarations (EPDs) were the name of the game within the Energy subcommittee. Surveys will be issued specifically for a windows PCR and a processed glass EPD, the results of which will be shared at Fall Conference. A list of FAQs will also be developed to understand the difference between the rule and declaration, and why it is important to members.
Health and wellness as a benefit of daylighting continues to be an important topic and means to advocate the use of glass among key stakeholders. Visit the online resource guide to review the continually-growing list of resources on the subject. In addition, one new work item was initiated within the subcommittee to address frame and perimeter insulation and alignment.
Insulating:
Following publication of the new AIA-approved presentation, Multi-Cavity IGUs, a call was made for approved presenters. This, along with eight other AIA-approved presentations, is available as a member benefit through NGA. Contact sara@glass.org for more information on NGA's nine AIA-approved presentations available for use by NGA members only.
Unsupported Edge Conditions of IGUs, published jointed with the Insulating Glass Manufacturers Association is now available online through glasswebsite.com/publications.
Two additional GIBs are under development: Oversized IGUs and PIB Primary Sealant (in collaboration with IGMA).
Laminating:
The group is continuing its assessment of test data to create new resources on the compression of interlayer tolerances as well as deflection calculations for laminated glass constructions.
New resources coming soon include the updated versions of the Component Substitution for Hurricane Impact Fenestration GIB and the much-awaited Laminated Glazing Reference Manual.
Protective glazing:
The group will release an updated version of its Protective Glazing 101 AIA presentation by third-quarter 2019.
The group also established a new task group to address security glazing for schools.
Fire-Rated Glazing Today AIA presentation is updated and ready for use by NGA members.
Tempering:
The new edition of the Engineering Standards Manual, one of the association's most popular manuals, will include an important table on the minimum thicknesses for fully tempered glass in butt-glazed fixed interior panels features updated calculations, and will be part of the new edition of the Manual to be released by second quarter 2019.
The Heavy Glass Door Manual is also being updated. The 20th anniversary edition will be published in second quarter 2019.
New GIBs on allowable stress in point-supported glass and thermal stress in spandrel applications are in task group.