Tempco Glass Fabrication Extends Delivery Service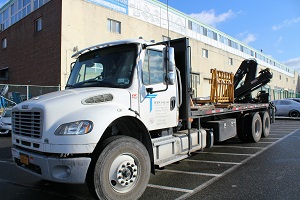 Tempco Glass Fabrication recently enhanced its delivery service with the acquisition of a new boom truck.

The new vehicle, a 2017 Freightliner flatbed with a rear-mounted Hiab boom crane, allows Tempco to deliver greater quantities and larger glass units to a range of job sites in the extended New York metro area.
"With our new boom truck, Tempco can now deliver and quickly off load more glass directly to customer facilities and jobsites," says Johnson Chen, general manager for Tempco. "The truck's capacity and features greatly enhance our service abilities, especially for high volume orders."
The new boom truck expands Tempco's current fleet of two standard glass trucks and extends its delivery area to a 200-mile radius from its Queens, New York, facility. "We have delivered glass to job sites as far as Maryland," says Chen.