Tyler Giacin Joins Shower Doors & More as Production Manager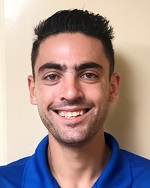 Tyler Giacin joined Shower Doors & More Inc. as production manager. In his new role, he will assist in the continued growth of his family's glass fabrication company, say officials.
In a previous role, Giacin served over the past three years as the professional assistant to the Superintendent at the Village of Garden City's Building Department. Involved in a variety of roles at the Building Department, including planning, assigning, reviewing architectural and engineering documents for board review, Giacin also coordinated the flow of the building permitting process.