YKK AP America Hires Lawrence Soto to Expand Western Regional Presence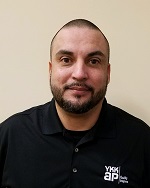 YKK AP America hired 15-year industry veteran Lawrence Soto to expand its western regional presence by leading a dedicated team of estimating and customer service personnel in the San Francisco Bay Area. His expertise will help YKK AP expand its brand visibility while continuing to support demand within the region, say company officials.

Soto comes to YKK AP with a portfolio of experience in the fenestration industry, including direct sales and management, overseeing estimating teams and direct fabrication and quality control of fenestration products.

"Lawrence's diverse skill set and expertise in sales, estimating and quality control makes him a perfect fit as we continue to grow our team in the western region," says Joey Bernard, western region general manager for YKK AP America. "We're extremely confident in his ability to lead the charge."

YKK AP first established its presence in the eastern region of the U.S. It began its expansion out west in 2014, with the opening of a manufacturing facility in Dallas and has continued to grow its sales team with representatives in Arizona and Southern California. Its direct freight network has also expanded to Arizona and California, providing customers with a direct, efficient way to receive shipments on time and without damage.