YKK AP America Recognizes Top Performers at Annual Sales Meeting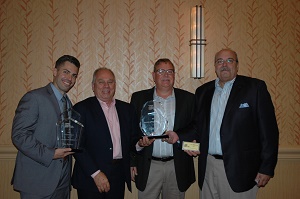 YKK AP America recognized its top performers of 2017 during its annual meeting at Atlanta Evergreen Marriott Conference Resort at Stone Mountain, Georgia. The recipients were selected based on performance and growth during the 2017 fiscal year, as well as embodying the company's core values.
Honorees included the Orlando branch who received the coveted Branch of the Year Award and architectural sales representative, John Spelman, who was awarded the company's most prestigious individual honor, the President's Award. The Branch of the Year Award recognizes outstanding achievements in sales, profitability, operations and customer service excellence. Barry Wampler, who manages the Orlando team, accepted the award on behalf of the branch.
"I have been fortunate to witness the tremendous growth and success of the Orlando branch over the past year," says Wampler. "I could not be more proud of the entire team that consistently shows up and puts in the hard work and dedication it takes to be successful."