Vitkala to Retire after 27 Years at GPD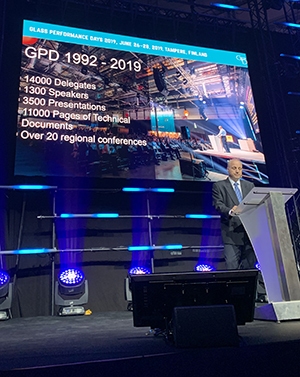 Vitkala during the GPD 2019 Opening Ceremony.
Jorma Vitkala, the founder and organizer of Glass Performance Days, will retire after the 2019 event. GPD is a technical and trend conference that brings together participants in all segments of the glass industry from all over the world to address industry processing and performance challenges, present top trends, and discuss solutions to bring the global glass industry to the next level. GPD 2019 runs June 26-28 in Tampere, Finland.
Vitkala launched GPD in 1992 to help glass processors address manufacturing challenges and best practices. In the decades that followed, GPD evolved to address broader concerns of the glass industry, with a focus on performance, and to include more segments of the industry, from engineers and architects to academics and researchers and more.
"Since 1992 when the very first GPD took place, more than 14,000 delegates have participated, over 3,500 presentations have been given and some 11,000 pages of technical documents have been written," said Vitkala during the GPD Opening Ceremony. "GPD has truly become a unique platform for trustworthy information."
GPD has also expanded with additional conferences throughout the world, including GPD China and GPD South America.
"It is Jorma's dogged determination that makes this forum possible," says James O'Callaghan, senior director of structural design firm Eckersley O'Callaghan. "This forum, and this place, makes it possible for us to all have fun and make connections and remind us what it is that we love about this industry."
Looking ahead, Vitkala will continue to act as an advisor to GPD, focusing on maintaining the conference spirit and the relationships that he has created over the last 30 years, according to Arto Metsänen, CEO and president of Glaston.