Clean Edges in a Single Pass High-Speed Grinding on All Edges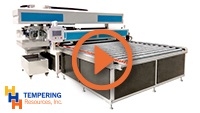 ADVERTISEMENT.
Video: 4-Edge Glass Grinding Machine
Less Time. Less Space. Less Labor. No Problem.
Watch high speed, automatic glass grinding by clicking here.
Save Space: The 4-edge grinder is about the same size as the standard horizontal glass washer.
Save Time and Labor: Automatically detects glass size before wet grinding all glass edges at speeds up to 20 m/min.
Can't wait to see the 4-edge glass grinder at GlassBuild 2019? Get product specs at HHHTempering.com or give us a call at 724-257-4450 to start integrating the 4-edge grinder into your production line. With HHH Tempering Resources, the difference is clear.
HHH Tempering Resources
724/257-4450 |