Colored spandrel glass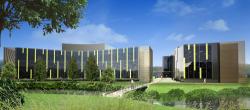 Chromatic's Glass Inc., Rancho Santa Fe, Calif., introduced Chromatics, a cuttable, opaque, colored spandrel glass for external and internal applications. Any color from the Realtime Analyzer light spectrum can be replicated consistently, even years after the original panels were supplied. Chromatics glazing panels are impact-resistant and recyclable; the product does not contain any toxic elements or volatile organic compounds, and generates no harmful byproducts during the relatively low-energy manufacturing process. The colors are organic and can be safely disposed of without any special requirements.
Chromatic's Glass Inc.
, Rancho Santa Fe, Calif.
858/334-5989 |