C.R. Laurence Introduces TAPER-LOC® XAL Adjustable Glass Railing System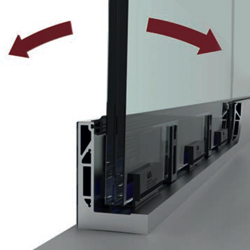 ADVERTISEMENT C.R. Laurence's new TAPER-LOC® XAL Adjustable Glass Railing System helps glaziers achieve precise railing installations and improved aesthetics. It allows up to 3/4" of glass angle adjustment at a 42" height to compensate for uneven substrates or angular variations between glass lites. This produces glass spans that are perfectly plumb and aligned at the top glass edge, even if the base shoe sections are not even. The system is designed for use with 11/16" and 27/32" laminated tempered glass.
The system works by utilizing proprietary adjustable tapers that are made of high-strength, engineering grade polymer. The tapers expand in thickness when compressed using the company's TLK12 precision torque tool, mechanically locking the glass panels to the base shoe. The tapers, along with the setting base, space the glass away from the base shoe's vertical walls allowing for glass angle adjustment. This provides the added benefit of protecting the glass panels from damage during insertion and, at the same time, centers the glass in the pocket.
The TAPER-LOC® XAL Adjustable Glass Railing System is compatible with C.R. Laurence's Safety-Seal technology. Typically, glaziers need to reach over a glass railing to roll in the drop-side rubber seal. This action increases the risk of injury because glaziers can fall over the railing. The Safety-Seal bypasses this step because it's installed in the base shoe before the glass is. The result is an installation method that is safer and faster than standard procedures.
The TAPER-LOC® XAL Adjustable Glass Railing System exceeds building code lateral load and pullout force requirements, and it's engineered to meet the 2015 IBC. It's also the only ICC-ES approved base shoe system for glass railings on the market, which means it will be accepted by code officials in construction projects nationwide.
As a dry-glaze system, the TAPER-LOC® XAL Adjustable Glass Railing System reduces installation time by as much as 50% and expedites glass replacement in the event of damage. The system can be used with C.R. Laurence's 9BL68, 9BL21, L68S, and L21S Base Shoes.
C.R. Laurence
800/421-6144 |