C.R. Laurence Releases Groundbreaking Entice® Panic Device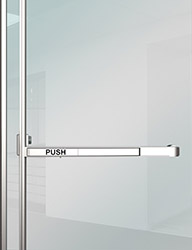 ADVERTISEMENT The Entice Panic Device's revolutionary design features an independent, ultra-narrow crash bar that's engineered to easily and securely attach to the vertical panic component. This unique 2-piece system eliminates critical alignment issues and allows one-person installation. It also allows specification of an interior door handle that matches the exterior door handle—an aesthetic benefit that was previously unavailable with panic devices for glass doors.
Evolving energy codes are requiring greater thermal performance from entrance systems. That's why the Entice Panic Device was purposefully designed for installation on 1" double-glazed insulating glass units using proprietary through-glass fittings. It can be installed on 1/2" and 3/4" monolithic tempered glass as well. The through-glass fittings allow broader tolerances for glass fabrication misalignments to significantly expedite door assembly.
The Entice Panic Device features a curved crash bar end that presents smooth, flowing visuals and enhances safety by preventing clothing from being caught during emergency exit scenarios. The high-performance crash bar is able to handle the loads imposed during the emergency exit test required by UL.
The system is stocked in four popular sizes and is ready for immediate shipment—a stark contrast to the lead times associated with custom panics. The 2-piece system can also be packaged into a narrower container to reduce shipping costs. To learn more about the new Entice Panic Device from C.R. Laurence, call (800) 421-6144 ext. 17700.
C.R. Laurence
800/421-6144 ext. 17700 |