CRL-Blumcraft® Panic Devices: Unmistakable Design, Quality, and Reputation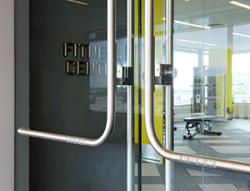 ADVERTISEMENT

Blumcraft® patented the original tubular panic over 50 years ago. Since then, architects, glass professionals, and end-users have come to value their clean and elegant design. They feature an operating mechanism that is discretely concealed within a slim tube. A roller latch bolt at the top of the door retracts when the crossbar is gently pushed for fast and easy egress during emergencies.
When paired with glass doors, CRL-Blumcraft® Panic Devices produce unobstructed views and allow ample daylight to flow through building interiors. This makes them ideal for high-end contemporary buildings.
CRL-Blumcraft® Panics feature curved crossbar ends that comply with UL 305 4.3. The curved crossbar ends present a smooth, continuous flow of the hardware through glass doors, creating attractive streamlined visuals. They also enhance safety by preventing clothing and carrying bags from being caught on the end of the crossbar in an emergency exit scenario. Additional benefits include:
· UL, IBC, and ANSI/BHMA Certified
· 5-7 Day Lead Time
· Custom Configurations and Finishes
CRL-Blumcraft® Panic Handles are compatible with nearly every type of door and entrance. This includes tempered monolithic heavy glass doors, laminated tempered glass doors, insulating glass doors, aluminum rail and stile doors, hollow metal doors, wood doors, and balanced doors. They're also compatible with manual strikes, electric strikes, or electric strikes with bolt position sensors.
Often imitated but never matched, CRL-Blumcraft® Tubular Panics maximize life safety while offering premium aesthetics. They have built an enduring reputation for uncompromising quality, performance, and elegance, which is why they can be found in the most iconic buildings and demanding specifications.
Double Duty: The smooth compound bends and curved crossbar return of the CRL-Blumcraft Panic Device (pictured above) seamlessly flow through the glass. More importantly, the design complies with UL 305 4.3, which mandates: "The ends of the crossbar or push pad shall be curved, guarded, or otherwise designed to prevent catching of the clothing of persons during exit."
C.R. Laurence – Blumcraft
800/421-6144 ext. 7700 | architectural@crlaurence.com |