Efficient, Quality Edgework: 4-EDGE HORIZONTAL GLASS GRINDER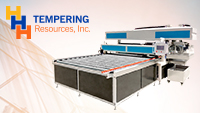 ADVERTISEMENT Quality edgework every time with speeds up to 20 m/min! Your new 4-edge glass grinder from HHH Tempering Resources significantly decreases production costs.
The compact grinder is a cost-effective investment with a small footprint and minimal maintenance needs. Get product details or request additional information here or call an HHH technical expert at 412-227-8966.
HHH Tempering Resources
412/227-8966 |